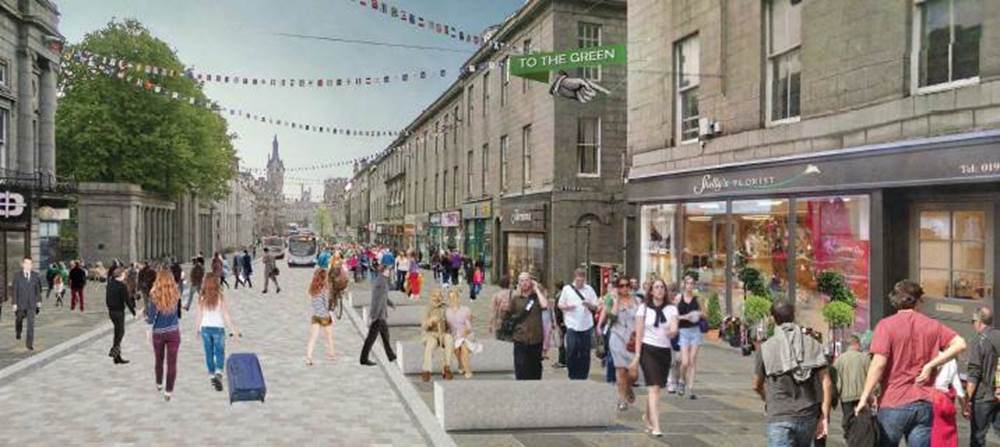 What could the Aberdeen City Centre Masterplan mean for the region?
Anyone living in or around Aberdeen will no doubt have heard about the Aberdeen City Centre Masterplan, which has recently been approved by Aberdeen City council. But what will the plan mean for the region? We take a look at what has been suggested.
First off, it's important to note that the regeneration plan is not something that will happen overnight: it is a 20 year scheme, incorporating 49 projects.
The key proposals, identified by independent consultants BDP following public consultation, include 12 community based initiatives, 13 infrastructure proposals, 13 economic outputs and 11 environmental developments across the city.
While I won't go into all the projects in detail, main proposals include pedestrianising Union Street, expanding Union Terrace Gardens, a new public centre in Castlegate and redevelopment/demolition of the Trinity Centre shopping centre.
The council has suggested that the plans – which also include the building of 129,336 square meters of office space and potentially 1,500 new homes (a quarter of which will be affordable housing) – could create 5,000 jobs and add £280 million to Aberdeen's gross annual income. This could prove very important depending on how the oil industry develops in Aberdeen.
So far, so good. But with all these extra businesses and houses, how will infrastructure cope? A long awaited, almost certainly overdue, new bypass has begun construction, designed to alleviate traffic congestion in and around Aberdeen. Other than that, however, developments allowed by Aberdeen City Council in the past appear to have been granted with scant, if any, consideration given to infrastructure requirements. It is not clear what allowance has been made in the current proposals to deal with severe congestion in the City Centre which will, almost inevitably, ensue from the proposals.
Part of this includes a debate on vehicle access, with two conflicting arguments - the first being there needs to be on-street parking in the west end of the city  - and the second  being the introduction of congestion charges, with more people encouraged to cycle and walk. This is something which will need to be decided before any change is made.
Community insight into the proposals also revealed worries over plans for an additional 66,960 square meters of retail space, especially as some shops in the heart of Aberdeen are already lying empty. If these retail spaces are incorporated into the new developments, as well as new housing, they could provide useful – again, it all comes down to the design.
With all this building work, you may be pleased to hear that the plans also include an increase of greenery, with 1,000 trees to be planted and "greening" of Golden Square, Bon Accord Square and Castlegate spaces.
The difficulty with the proposal is that it constitutes a huge investment over a long period of time, involving an enormous degree of trust, by the community, in the Council to make good decisions. For the citizens of Aberdeen, such a degree of confidence in our local council may be difficult to generate given the experience of recent years.