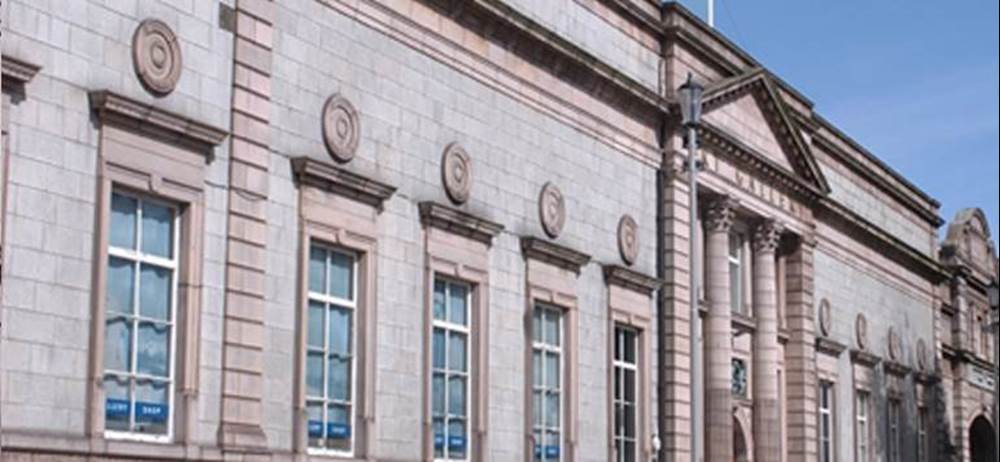 ASPC looks into the Aberdeen Art Gallery redevelopment
I had the opportunity, recently, of further updating on the redevelopment of the Aberdeen Art Gallery. Work has been ongoing for some time now, but not necessarily apparent to the passing public as most of what has been done has been carried out behind closed doors. During this year staff and contractors have been very busy packing and transporting the art collection to secure storage. Over 2,000 items had to be dealt with and now rest in safe temperature controlled storage.
The building has been handed over to the building contractors – McLaughlin and Harvey – and after structural and recording surveys were completed, the strip out and salvage process began in June. Granite columns and marble floors have been protected as they remain in situ. As much salvage and recycling as possible is being carried out and original features, long obscured have been uncovered.
There have been some surprises. For example, it appears the original building, while facing Schoolhill had a wing extending rearwards into the campus of Robert Gordon's College. More prosaic, but perhaps an indication that nothing really changes in human endeavour, has been the uncovering of everyday items discarded by workmen in the past while carrying out construction work. These include a box of matches, soft drink can and graffiti!
We can now expect to see external manifestations of the activity as scaffolding will be erected, the roof will be removed and the tall crane will be erected. The work, which is taking place on schedule and in budget, is scheduled to be completed in Winter 2017.
Amongst the works to be carried out is the development of new galleries, greater accessibility to the Remembrance Hall with a redesigned gallery and the reinstatement of all four original openings to connect the Hall with the Gallery. The Cowdray Hall will become a lively place with a variety of functions but retaining music at its core.
From what I have seen of the proposed internal works, the outcome for the citizens of Aberdeen will be an historic building, a significant part of the built environment, retaining much of its ancient grandeur but transformed, internally, into a modern, accessible, useable and artistic entertainment centre of which the City can be proud.
For further interesting information on the project, visit www.aagm.co.uk where you can donate towards the funding of this worthwhile Civic Project.