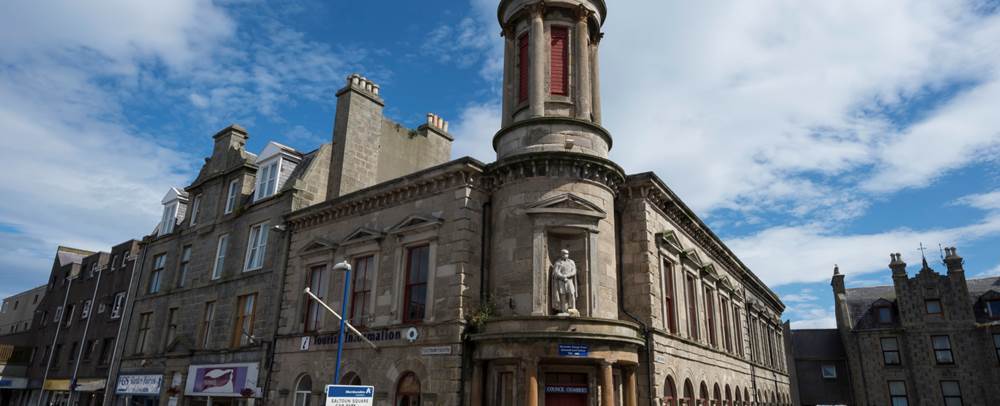 Fraserburgh 2021 project: £5.7m regeneration to go ahead
The town of Fraserburgh is set to be revamped after Aberdeenshire Council received a £1.8million Heritage Lottery grant.
This is part of a £5.7m funding pot raised for the Fraserburgh 2021 project – a conservation and restoration project set to run for a five year period to March 2021.
The restoration of Saltoun Chambers and the adjoining former police station is a key aim of the project, as well as returning other derelict or vacant historic properties in the Fraserburgh Central Conservation Area back into active and viable use. 
If you feel like you have heard all this before, it is because the regeneration strategy for Fraserburgh was first announced in May 2013.
While the main bulk of the 'regeneration' work is yet to take place, those local to the area may have noticed the introduction of various events in and around Fraserburgh – such as the two-year programme of Super Saturdays, to build a more vibrant town centre. This project was shortlisted for the 2014 SURF (Scottish Urban Regeneration Forum) Award for Best Practice in Community Regeneration.
Revamping Fraserburgh is definitely something the town needs, to improve the local area and bring more employment opportunities. However, there have been some disagreements over what form this regeneration should take.
Councillor Michael Watt, for example, says regeneration of the Saltoun Square town house "is not the best way to spend money in the town".
He suggested that the plans look more towards recreating the town as it used to be, instead of pushing it into the future, adding: "It's certainly not going to do any harm, but I question if it's going to do any good."
I can understand in part this view, but as long as the work extends beyond the restoration of the town house and the police station, the town as a whole should hopefully benefit.
What do you think about the redevelopment plans?