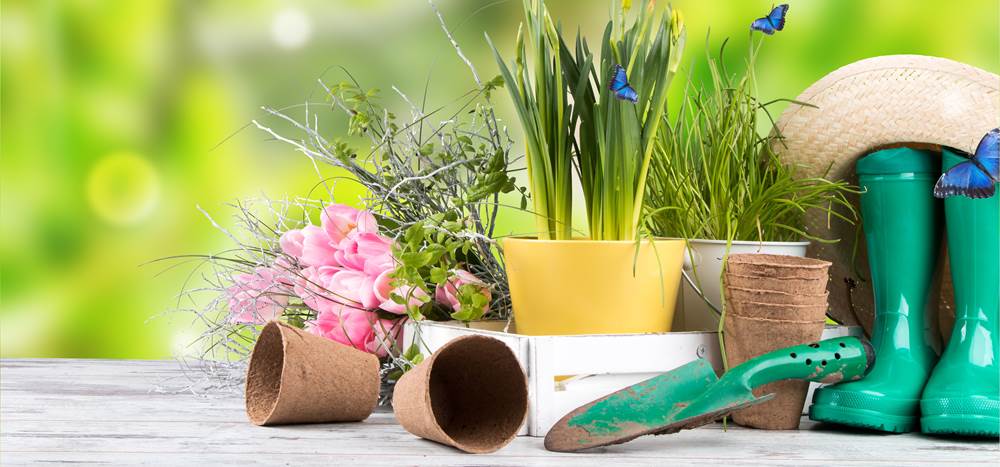 Five ways to spruce up your garden for spring
Even if you're still donning your winter coat and wellies – spring is nearly upon us. 
Now is the perfect time to get your garden in order and prepare for the spring sunshine and the lovely blooms that it brings. Follow our top tips to getting your garden into shape.
Tidy up
The winter lull and often blustery weather can leave all sorts in your garden. Whether it's debris, leaves, or dead growth – get your gardening gloves on, grab a bag and tidy up your lawn, flower beds and even your pond! This early tidy up will make planting season much easier without worrying about rubbish lying around. Now is also the ideal time to fix any fences that may have seen better days.
Save this one for a crisp day with little breeze and maybe a spot of sunshine.
Clean up
If tools have been in a shed or greenhouse dig them out and give them a bit of a clean. Dirty tools can spread bacteria to otherwise healthy plants – especially tools like secateurs or pruning shears. If they're looking a bit dull give them a sharpen too. It's also the perfect time to clean up your greenhouse. Avoid any diseases affecting your plants by giving it a good sweep and consider disinfecting. Just as your tools can harbour bacteria so can your greenhouse.
Order
If the weather isn't kind and you're still facing challenges, wrap up cosy inside and order your seeds! Think about how you want your flower beds to look and when you want them to bloom. Consider a quick sketch of what you'd love your ideal garden to look like. It also means you won't overspend your budget on compost or flowers that you do not have any room for. Now is also a great time to get shopping for garden furniture.
Prepare
After you've tidied up and cleaned up – now comes the fun bit. You can begin to prepare your flower beds several weeks before planting to help ensure a lovely Show.  Compost, fertiliser and feeders can help enrich your soil before you even plant. Make sure you've removed any weeds during your clean up.
Sow
Once you've followed these steps you can begin the planting. Make sure the frost is completely over, be patient and don't rush out at the first sight of sunshine. For any old weeds or debris lying around – try and work up an organic compost pile or sort yourself out with a big tub. This can help with fertilising in future!
Spring has sprung and it's time to enjoy your garden! Share your photos of your lovely gardens below.