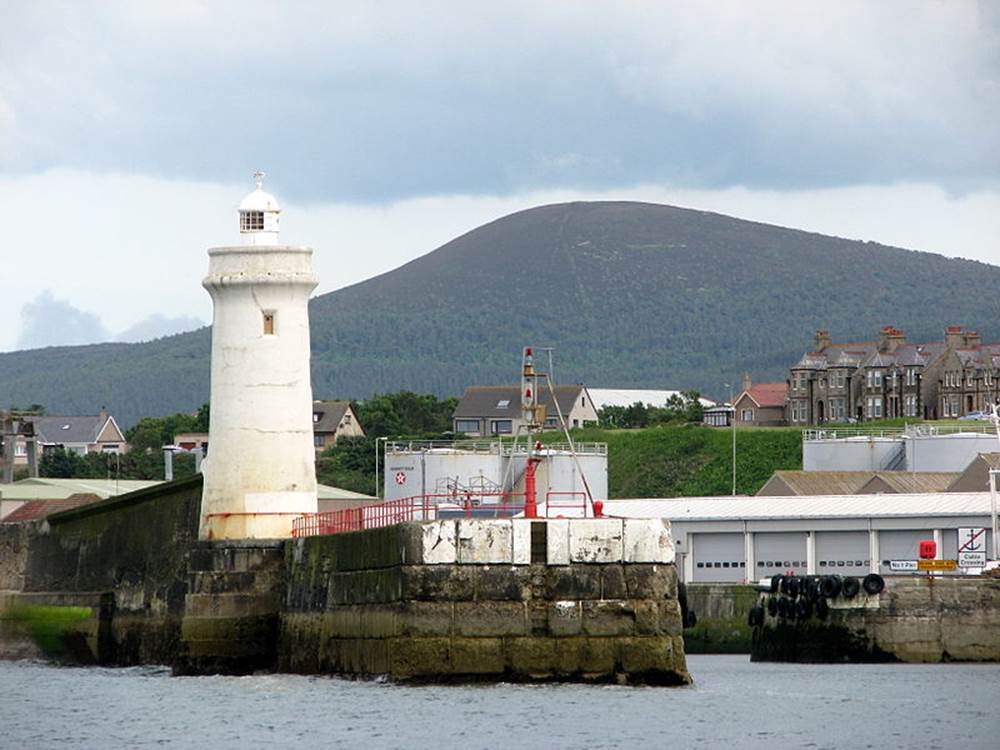 Life in Buckie: all you need to know about the town
Buckie's historic character and enviable location on the beautiful Moray Firth Coast make it a great prospect for everyone from first time buyers to those seeking a large family home by the sea.
Where is Buckie?
Located on the beautiful Moray Firth Coast about halfway between Banff and Elgin – and just over sixty miles from the city of Aberdeen – Buckie is an attractive fishing town with lots to offer residents and visitors alike.
With its enviable setting on the Moray Firth coastline, it's no surprise that a main feature of Buckie is Cluny Harbour, which is at the heart of the town and its heritage. The harbour remains one of the most active in Scotland, and is a great place to see fishing boats going about their daily business.
What's it like to live in Buckie?
These days, Buckie is a bustling town with a population of over 8,000 people – a big change from the 17th century when it was a small fishing village! However, despite the town's development over the centuries, Buckie retains a friendly atmosphere and community feel with a strong appreciation of its unique culture and heritage.
Buckie's local retail scene is a particular area of strength - a walk through the town centre will find you surrounded by local specialist shops - including quality bakeries, gift shops, and fashion outlets. The individuality of Buckie's independent stores and boutiques are complemented by a number of high street chains.
There is also a variety of cafes and restaurants to choose from, with cuisines ranging from Bangladeshi to traditional fare, often made with fish landed fresh from Cluny Harbour earlier the same day. Or if you prefer your home comforts, there's always the chance to cook up a storm in your own kitchen with a wonderful selection of seafood available from the local merchants - at extremely reasonable prices, too.
As well as the harbour, everyday life in Buckie offers no shortage of charming sights and attractions, and the Victorian architecture is an impressive presence within the town, exemplifying its rich history. 
St Peter's Church is one such stunning building - and it can be seen for miles along the coastline. This twin-spired gothic masterpiece was originally intended to be a cathedral of the Roman Catholic Church in 1857, but despite its fond nickname, Buckie's Cathedral, St Peter's never reached this status. Nevertheless it is definitely one of the most magnificent churches in the North East of Scotland.
Schools in Buckie
There are three primary schools in Buckie: St. Peter's RC Primary School, Cluny Primary School and Millbank Primary School.
Each of the three schools has less than 400 pupils, making it the perfect hands-on and friendly school experience.
Also located in the town is Buckie High School, a six-year comprehensive community school with roughly 900 students and 100 members of staff. The school site also features a swimming pool and leisure complex, and extensive sports facilities
History of Buckie
Buckie was originally formed by the merging of several separate nearby fishing villages such as Nether Buckie, Easter Buckie, Yardie and Portessie.  In 1877, a new harbour was built by the Cluny family in 1877 (hence its name, Cluny Harbour) to replace the stone harbour built twenty years earlier in Nether Buckie.
At the time of building, Cluny Harbour was regarded as one of the finest ports in Scotland, going on to become the core of a thriving fishing and shipbuilding port. At the height of its prominence in the fishing industry Buckie was the major fishing port of the Moray Firth and had the largest steam drifter fleet in Scotland.  While the fishing industry in Buckie is less prominent nowadays, the harbour remains an active and alluring feature of the town.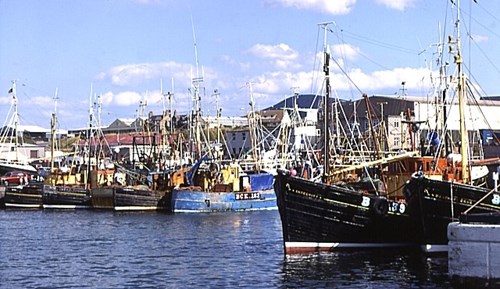 In the 1950s, Charles Eckersley took the first steps to position Buckie as a key foundation of the modern shellfish industry. He arrived from Manchester and was trading as a fish merchant when he noticed varieties of shellfish, that he had come across during his national service in the Middle East, were being discarded as useless by Buckie fishing vessels.
Eckersley seized this opportunity to fill a gap in the market, and built up an extremely successful business, processing and packaging shellfish such as prawns and scallops, which expanded to include factories in Europe. The food processing industry is still thriving in Buckie today, and is a significant contributor to the town's economy. 
Things to do in Buckie
As well as the stunning views, attractive buildings and friendly sense of community there's lots to keep you occupied in the historic town of Buckie.
Familiarise yourself with the town's roots at the Buckie and District Fishing Heritage Centre. With over 8,000 archived photos and an impressive collection of model boats – the centre provides a thorough understanding of Buckie's enduring and profitable relationship with the sea. You can also track specific fishing boats built in boatyards in and around the area on an extensive database.
The town is famed for the marine life which frequents its shores and is often visible. The Scottish Dolphin Centre located in Spey Bay just outside Buckie is regarded as one of the best places in the UK for dolphin watching. Here, you can catch a glimpse of not only the fascinating bottlenose dolphins, but also seals, ducks and the occasional otter.
Or, if you prefer a more adventurous route to discovery, the Gemini Marine tour sails three times a day and takes you to all the best places for spotting dolphins in the Moray Firth. Every trip and the marine life you meet on it is different so don't forget to bring your camera – no matter how many times you've taken the tour before!
Buckie is home to two excellent golf clubs - Buckpool Golf Club and Strathlene Golf club. Founded in 1877, Strathlene's dramatic clifftop links course is recognized as one of the oldest in Scotland. Despite its veteran status, this is a course that really keeps golfers on their toes by mixing redesigned holes in with the originals – ensuring visitors and locals are met with a welcome challenge while they appreciate the wonderful views of the Moray Firth.
Buckie is the perfect place to stretch your legs, and if a stroll along the harbour isn't enough to satisfy your itchy feet there's always the Moray Coastal Trail. Unfolding 12km between Buckie and Cullen, the route offers yet more fantastic views including Portknockie's Bow Fiddle rock, so named because it resembles the top of a fiddler's bow. There is a clear path and a bench to view the rock from, but you can get better views by walking west towards the coastline.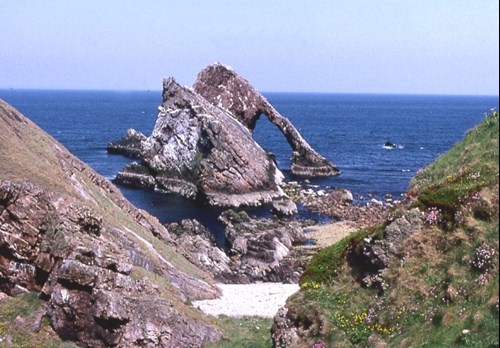 Getting around Buckie (train, bus, walking etc)
The linear layout of the town makes it easy to navigate, and most destinations within Buckie can be reached by taking a scenic detour alongside the coast.
There are regular bus services in operation to Aberdeen, Macduff and Elgin. Keith Railway station is a short distance away for when you want to travel further afield.