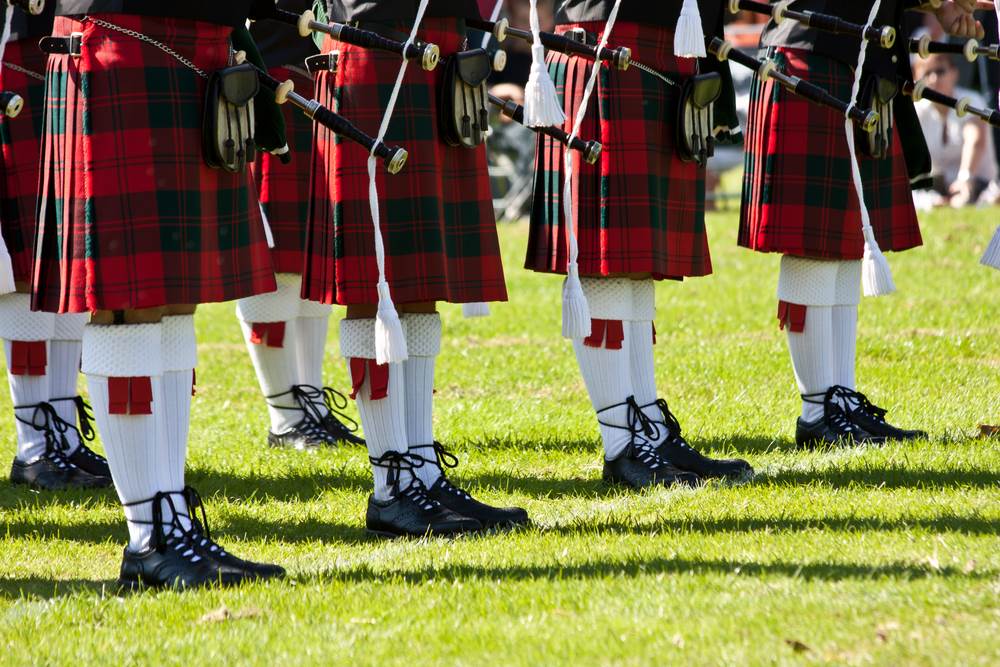 A beginner's guide to Highland Games in Aberdeenshire
If you visit Aberdeenshire during the summer months, the area's various Highland Games are not to be missed. Read on to find out the history of the Games and where you can watch them.
What are Highland Games?
Highland Games are traditional outdoor sporting events that celebrate Scottish culture. It is believed the earliest form of the Games started around 1,000 years ago as a way for kings and clan chieftains to find the strongest men and best entertainers.
The current format was established in Victorian times, comprising pipe bands, Highland dancers and the sporting events the Games are famous for, including caber tossing, hammer throw and shot-putt.
Close to 100 Highland Games are organised around the world, started by Scots who emigrated and wanted to celebrate their culture in their new home. In Aberdeenshire 11 annual events take place, attracting thousands of visitors between June and September.
Highland Games in Aberdeenshire
Cornhill Highland Games – Saturday 2nd June 2018
Celebrating its 21st birthday, the Cornhill Highland Games feature heavy events, light events, a Tug of War, various races (including one for the kids) and a Highland dancing competition. Pipe bands from Buckie, Keith and Portsoy will provide entertainment throughout the day, with the festivities kicking off from 10.30am.
Oldmeldrum Sports & Highland Games –  Saturday 16th June 2018
Originally known as 'The Sunshine Sports', this event was started in 1930 by five local men parting with a week's wages to fund the day. The profits from the inaugural Games were used to buy cocoa for the children of Oldmeldrum and even to this day, all proceeds are donated to local charities.
This year's event takes place in Pleasure Park featuring heavyweight events and Highland dance.
Aberdeen Highland Games –  Sunday 17th June 2018
Our hometown's event truly has something for everyone's tastes. The Aberdeen Games take place in Hazlehead Park and will feature traditional competitions, pipe band championships, free children's activities and a fun fair. There's catering outlets and a beer tent to keep the adults happy too.
The Granite City's Games attract 8,000 – 15,000 visitors per year, so we'd recommend buying tickets in advance (early bird tickets are on sale now with a 25% discount).
Drumtochty Highland Games – Saturday 23rd June 2018
For an authentically Scottish experience, what could be better than watching the Highland Games at a castle? The Drumtochty Games take place on the grounds of the stunning Drumtochty castle and with this event being described as one of the friendliest in the area, it's definitely worth a visit. The timetable runs from 10.30am – 3pm.
Braemar Junior Highland Games – Saturday 14th July 2018
Organisers of the Braemar Gathering are keen to encourage 5-18 year-olds to learn about Highland Games traditions. Children can learn skills and compete in the Junior Games, which take place six weeks before the main event. There's also a family ceilidh to round off the day.
Stonehaven Highland Games – Sunday 15th July 2018
Taking place in the beautiful seaside town, the event in Stonehaven also includes the Mini Highland Games for youngsters. Family tickets are available for just £20 making this a great (and affordable) family day out. Running from 11am-5pm at Mackie Academy, the event is dog-friendly too.
Tomintoul Highland Games – Saturday 21st July 2018
Aside from traditional competitions, the Tomintoul Games lineup features some rather unusual events to entertain visitors. These include whisky barrel racing and the 'Pillow Fight' which involves participants fighting on a log pole suspended off the ground using sacks filled with straw – not the softest of pillows!
Aboyne Highland Games – Saturday 4th August 2018
Taking place on Aboyne Green with competitions kicking off at 10.30am and running until 5.30pm, the village event features the usual range of traditional events. Last year, the Queen made a surprise visit to open the Games for its 150th anniversary and dedicated the new caber using a dram of whisky.
Ballater Highland Games –  Thursday 9th August 2018
The Ballater Highland Games, which have set many records, are held annually on the second Thursday in August at Monaltrie Park. The Games have been held here since 1864 and outside of war years, have run uninterrupted to the present day. At the event, keep an eye out for the Best-dressed Highlander competition and the pipe bands parading around the perimeter track.
Lonach Gathering & Games – Saturday 25th August 2018
Lonach is another high-profile event of the Games season. One highlight is the March of the Lonach Highlanders - this 175-year-old tradition sees around 200 men of all ages march from Bellabeg to Lonach Hall carrying axes and pikes.
Lonach has had its share of famous faces attend, including Billy Connolly, Robin Williams, Dame Judi Dench, Ewan McGregor and Sean Connery.
The Braemar Gathering – Saturday 1st September 2018
The Braemar Gathering is one of the largest and most famous Highland Games. Queen Victoria began attending in 1848 when she first visited Balmoral Castle nearby and the Royal Family have been regular visitors ever since.
A standout highlight of the event is The Massed Pipe Bands which, over the years, have included musicians from across the world. This year, The Massed Bands parade at noon, 3pm and 4pm, marching through the village to The Princess Royal and Duke of Fife Memorial Park where the Games take place. It's an iconic spectacle to witness.
With events running almost weekly, you're sure to find one to fit your schedule so you can experience your first ever Highland Games in Aberdeenshire!