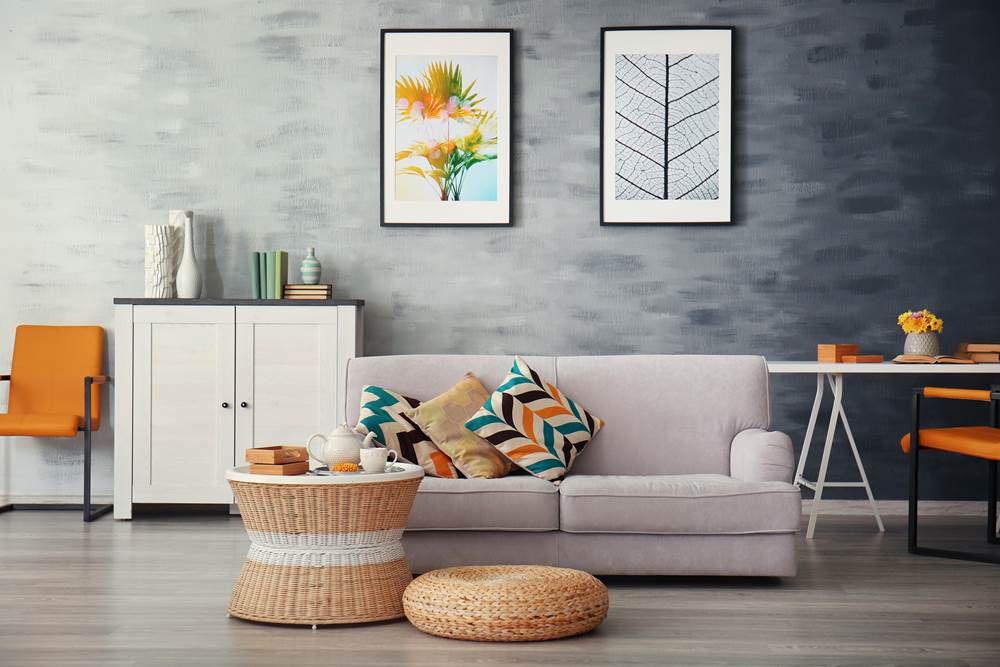 Furnished or unfurnished? Our tips for selling either way
Whether you're showing your property furnished or unfurnished, there are things you can do to make it more appealing to any buyer. We've put together some tips for presenting it in the best light.
Furnished
People generally prefer viewing furnished properties because they gain a better idea of the dimensions of the rooms and the possibilities for their own stamp on things.
Each of us has our own tastes and preferences for furnishing and décor, but prospective purchasers may have completely different attitudes, so how to present your home in an appealing way?
Nice and neutral
Buyers tend to attempt to picture themselves living in your home, so any help you can give may be beneficial.
Consider replacing photos, art and ornaments with a few neutral pieces like a photo of a landscape or a nice vase of flowers. Consider, also, whether you can 'tone down' any particularly strong personal touches, such as vivid soft furnishings.
Children and animals
You love your children and pets, but lots of buyers may have neither. Even devoted cat owners will not enjoy looking at a litter tray. Parents will enjoy viewing a house free of toys underfoot.  Do what you can to tidy up before viewings. Get Mum or Dad to take children out on a modest treat, too.
Create some space
You can instantly make a room feel bigger if you're able to remove a few items. There are things we need every day of course, but is there anything you could put into storage for the time being?
Taking out a few living room side tables or footstools will create more floorspace, or you could make more counter space in the kitchen by storing the toaster or microwave in a cupboard for a while. Loose paperwork, sports equipment or busy craft corners are also good targets for storage when you're selling.
All of this comes down to a little bit of common sense and one crucial thought – declutter!
Unfurnished
There may be circumstances where you have no option but to show a home unfurnished. Some prospective buyers may prefer it. But once a home is empty, there are things you – and buyers – will notice more obviously compared to a furnished home.
General wear and tear
If there is no furniture, buyers will be able to see more of the overall condition. It can pay dividends to effect a walk-through, noting any wear and tear (you could even ask a perceptive friend to come with you). For minor jobs, wall filler, 'magic eraser' sponges and wood filler are your friends. If the whole décor is looking tired, you may consider redecorating, especially if there are marks where furniture used to be or where frames used to hang. This is a judgement call, and be wary of overdoing things in your desire to make your property as attractive as you can, as many prospective viewers will be intending doing this for themselves, in their choice of décor.
Don't forget to look down
Because carpeting will be fully visible once the furniture's gone, that stubborn wine stain and that patch where the cat liked to sleep are on full display to buyers. Consider hiring a carpet cleaner or bringing in the professionals.  A competent tradesperson can make a significant improvement. For wooden floors you can remove small scratches and marks yourself with wood filler and sandpaper. If the floors are noticeably scuffed, consider having them waxed.
Give a sense of the space
An unfurnished property can be made to feel welcoming. Placing a 'Welcome' mat at the door is a great idea.  Installing air freshener or reed diffusers around the place can help. Ensure all lightbulbs are working, and it can be worth putting up inexpensive, neutral curtains to cover any bare windows. A rug in the middle of rooms can convey a sense of space, and you could even map out the size of beds with masking tape on the floor.
Getting your home into shape to cater for different tastes can be a challenge, but with our top tips you can make it more appealing whether it's furnished or empty. Here's to finding the perfect buyer!