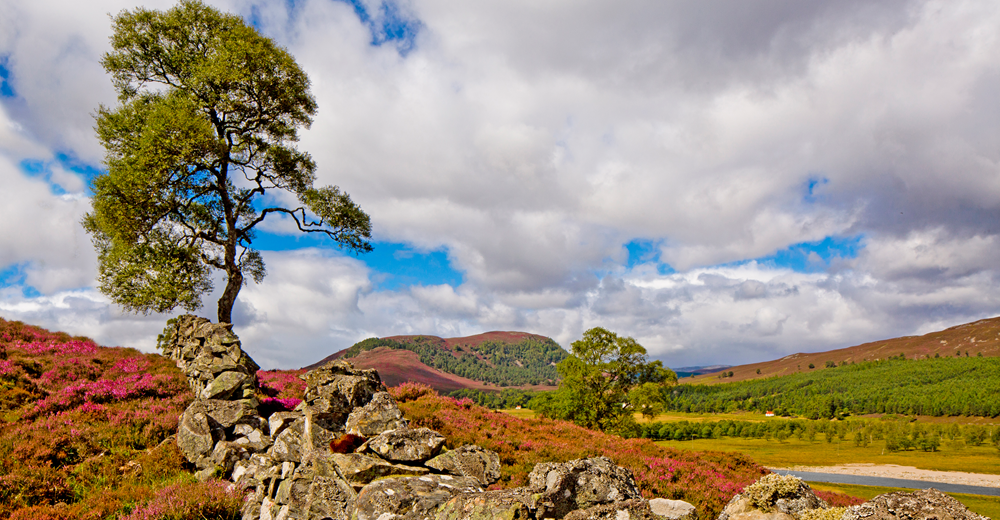 Near Braemar – Why it's Richard Shirreffs' favourite view
Each of us has a spot in the North East that we hold close to our heart, and our 2018 calendar sets out to share just what these beautiful views mean to us.
For each month, we have asked someone with a connection to either ASPC or Aberdeenshire itself to choose a location and tell us why it is significant to them, showcasing the view with a beautiful image from photographer Ray Smith.
With spring upon us, April's charming shot features the colourful countryside surrounding Braemar, chosen by Aberdeen-based solicitor and board member of ASPC, Richard Shirreffs. Richard said: "As a lover of the outdoors and the hills in particular, I could scarcely work and live anywhere better than in Aberdeen, with Deeside so easily reached. West of Braemar, the river, the mountains and the birches offer many magical views, with the heather, when in season, setting it off to best advantage."
For wanderers who love to explore Scotland's striking scenery, Braemar is the perfect basecamp. Nestled in the heart of the Cairngorms National Park, this ancient village has played host to kings and queens throughout the ages, with the royal family's Scottish holiday home, Balmoral Castle, less than seven miles away. If visiting the area, don't forget to visit Braemar Castle itself, the only remaining community-operated castle in Scotland, built in 1628 and boasting a colourful past.
Every year on the first Saturday in September, huge crowds descend on the village for the world-famous Braemar Gathering - the biggest event in the Highland Games calendar, attended by the Queen herself!
Venture out of the village and you'll find yourself surrounded by untouched countryside, woodland and the majestic Grampian Mountains. This part of Scotland is paradise for hillwalkers like Richard, featuring 24 Munros to conquer. If your sense of adventure craves a more thrilling way to experience the Royal Deeside landscape, head just nine miles south of Braemar to Glenshee Ski Centre, Scotland's largest snow sports resort.
For those who prefer to take things at a more peaceful pace, there are a huge range of walks and cycle routes to choose from, at varying levels of difficulty. Golf fans can try their skill on Scotland's highest 18-hole course at Braemar Golf Club while they take in the dramatic views.
There are so many ways to experience the breathtaking beauty of Braemar and its surrounding area. The tricky part is choosing what to do first!