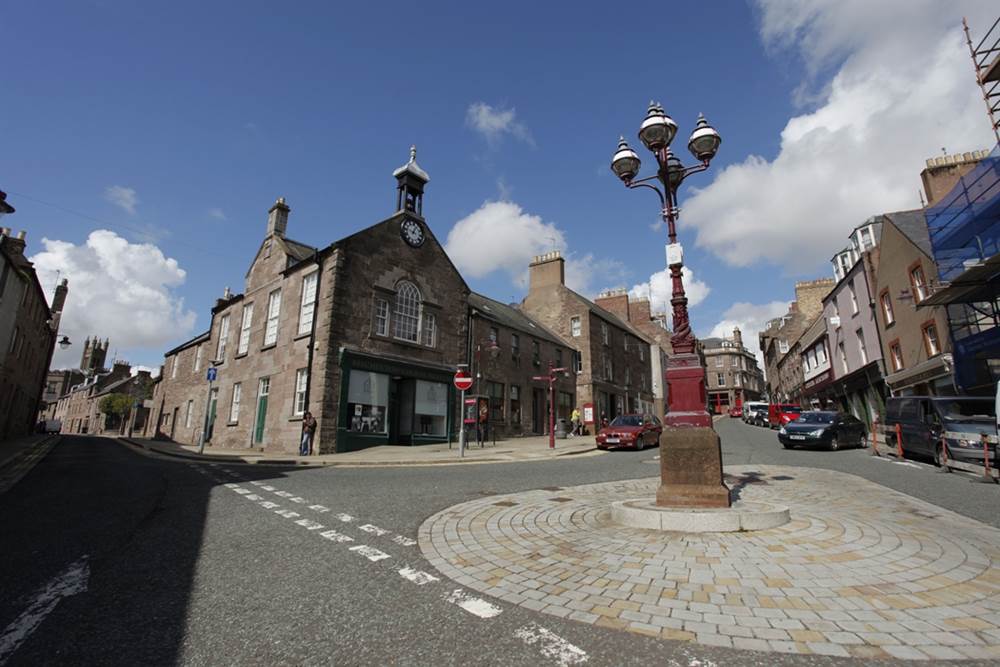 Life in Brechin
Brechin is a place where vibrant history and modern convenience come together to create a truly delightful town within the Angus area. It is located within an hour's drive of both Dundee and Aberdeen, making it an ideal spot for a day trip, as well as giving residents plenty of opportunity for a taste of city life.
From Pictish heritage, to architecture of the Middle Ages and modern day Scottish football, Brechin has something to offer everyone, whether they're settling in or just passing through.
Where is Brechin?
Situated on the banks of the River South Esk, Brechin is roughly 30 miles north of Dundee and 40 miles South of Aberdeen, both of which can be reached by train from the nearby Montrose Station.
Its inland location surrounds the town with green space, leading to lots of opportunities to explore the great outdoors, while its proximity to the coast means that you are always just a short drive away from the stunning beaches of the North Sea.
History of Brechin
Historically, Brechin is a fascinating town with heritage reaching back so far, it's difficult to pinpoint exactly when settlement was first established. It is thought that Christianity arrived in Brechin round about 560 AD, but there is clear evidence to indicate that it was a settlement of importance to the Pictish people. This is most notably heralded by the intricate sculpted stones left in and around the area by the warrior tribes from when they occupied the land from during the first millennium.
By 800 AD, an early Christian religious order known as the Celi De or the Culdees had established a religious settlement where Brechin now stands, establishing Brechin's status as a religious hub in the Highlands.
Brechin Cathedral was built in the 1100's and is a stunning example of medieval architecture. It was one of the few medieval cathedrals in Scotland to survived the violence of the Reformation in the 16th and 17th centuries and, to this day, remains relatively undamaged.  It features the Round Tower, built in 1000AD, which stands at 86 feet high and still retains its original doorway featuring intricate carvings of religious scenes. While it has been attached to the Brechin Cathedral since 1806, the tower was originally free standing, and its definitive Irish style is now one of only two left in Scotland!
In the industrial revolution, the textile industry flourished in the town, employing 1400 people over four mills. The arrival of the Caledonian Railway in 1895, and thriving brewing and distilling industry also led to a prosperous age for the town. While times have changed since those days, the Glencadam distillery still remains, as does the remarkable Victorian heritage railway station which hosts a range of events and visitor's centre.
You can learn of Brechin's vibrant past, and discover what life was like in the town in the 19th Century at the Brechin Town House museum on the High Street.
What's Life Like in Brechin?
With a population of just 7,900, Brechin is a peaceful town in the Scottish Highlands, nestled on the Northern border of the region of Angus. Its scenic and convenient location make it a popular spot for visitors to stop by and join the locals as they relax and take in the wonderful surroundings. 
If you love a meal out, you'll love the varied selection of cuisine on offer throughout the town. Culinary choices range from traditional Highland meals, to the exotic tastes of Indian food and, of course, a classic chippie or two!  Each of the assortment of restaurants, bars and pubs on offer in Brechin provide a different atmosphere and experience – ensuring that there's a haunt for everyone and every occasion!
While the historic Caledonian Railway no longer operates between Brechin and Montrose, it remains as a heritage steam railway which runs four miles to Bridge of Dun during the weekends, summer months and on special occasions.  The preserved Victorian station is one of the most visited tourist attractions in Angus and brings an influx of visitors year round to the town of Brechin.
There are many scenic paths in the area surrounding Brechin, especially those leading up to the Cairngorms National Park. There is also a choice of trails for both the experienced and casual walker, in and around the nearby village of Edzell. If you're looking for a bit of adventure, be sure to cross the Shakin' Brig of Edzell over the River North Esk. The walk treats you to dramatic yet tranquil waterfalls and rapids with plenty of opportunity to relax on the banks of the River North Esk and take in the wonderful nature surrounding it.
Brechin's location also makes it an ideal resting stop for Highland walkers, or a base camp for those just setting out on their journey. The town is often pleasantly buzzing with tourists, especially during the summer months, as people flock to experience authentic Scottish heritage and enjoy sports such as golf, shooting and football.
Things to do in Brechin
Brechin is the perfect spot for an active lifestyle. As well as the ample opportunity for stunning nature walks in the surrounding area, the town is home to two golf clubs and numerous other activities.
Brechin Golf Club is a popular parkland course situated just off the A90. As well as a picturesque 18-hole course, it features a fully fitted fitness suite, golf simulator and excellent catering at the club's 'Hickory Restaurant'.
For those who like to introduce a bit of variety to their game – the nearby Ezdell Golf Club provides a welcome change of scenery. The original course was founded in 1895, and today features not only the 18-hole par 71 course, but also a 9-hole West Water Course which was introduced in 2001. The club is located against a stunning backdrop of the Grampian Mountains, with sight of the Angus Glens - ensuring that you are surrounded by spectacular views throughout your game or as you enjoy a delicious meal in the superb clubhouse.  
Looking for something less conventional? The nearby Kargarrie House offers opportunities to try both real and simulated game shooting amongst breathtaking Scottish scenery. Or if you'd prefer to add a bit of colour into your shooting skills, you can also go north to Edzell to try your hand at a day of paintball in the Highlands.  
If you're more of a sports spectator than active partaker then heading to Glebe Park to see Brechin City  F.C. in action would be an ideal way to while away an afternoon. The club was founded in 1906 and, having been promoted from Scottish League One last season, is currently competing in the Scottish Championship.  The ground itself has a capacity of over 4,000 with seating for 1,500, and is the only football park to be bordered by a hedge – offering a uniquely vintage fan experience.
Not a sports fan? Not a problem. Nature lovers can enjoy the numerous local gardens, including the picturesque country park at Brechin Castle, where you can see deer, ducks and geese. While the stately edifice dates back to the 13th century, it was extensively renovated at the beginning of the 18th century resulting in the impressive structure that we see today. The stunning example of Stuart architecture contains many outstanding works of art and luxurious antique interiors.
If you prefer your castles a little more rugged around the edges – Edzell Castle offers exciting red sandstone ruins just waiting to be explored. The castle features a four-storey tower house as well as an intricate Renaissance walled garden – unique to anything else seen in Scotland.
Being the historic town that it is, Brechin is home to many examples of magnificent architecture. The classical Victorian influence is probably most notably seen in the Inglis Memorial Hall Library Visitor Centre which was opened to the public in 1898. The building still contains the original intricate stained glass windows and currently serves as both a function hall and a museum. The modern use of the library is designed to teach how the building was used by the Victorian population of Brechin and Edzell and, also of the lives of the Inglis family, who donated the hall to the town.
Schools in Brechin
Brechin High School, is the town's only High School. Located on Duke Street, the school was established in 1429 and, much like the rest of the town, has a strong historic background.
The non-denominational school hosts 600 pupils and members of staff, ensuring a close and attentive environment for education. Notable alumni from the High School include Labour MP Dame Anne Begg, founder chairman of Scottish Opera Robin Orr CBE, and Sir Robert Watson-Watt – the inventor of radar. 
While there are two primary schools within Brechin itself, Andover and Maisondieu, there are four rural primary schools which also feed into the high school: Edzell, Lethnot, Stracathro and Tarfside. 
Transport in Brechin
Brechin's location directly on the A90 makes travelling to to Dundee or Aberdeen convenient and fuss-free.
The town also boasts an excellent bus service, including direct transport to Dundee and a twenty-minute bus trip to Montrose giving access to the coast as well as the train station there.
Comments
+

View more comments
Join the conversation.
Related Posts
Liked this article? We think you will find these interesting too:
April 20, 2016
In Buying a house By So, you have bought a house! Congratulations. By now, feeling a wee bit weary, perhaps, you have been through the process of arranging funding, searched for suitable homes on ASPC's website, made a selection to view, been to see several, tried for a couple, possibly, without success, but now the end is in view.
So, you have bought a house! Congratulations. By now, feeling a wee bit weary, perhaps, you have been through the process of arranging funding, searched for suitable homes on ASPC's website, made a selection to view, been to see several, tried for a couple, possibly, without success, but now the end is in view.