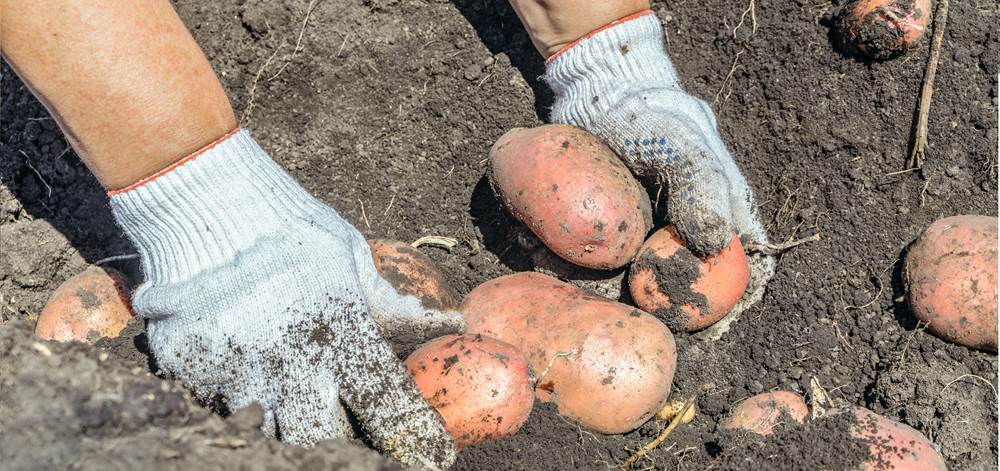 Five easy vegetables to grow
Nipping out to the garden to bulk up your meals with tasty, homegrown vegetables seems like a rural dream in today's busy modern society – obtainable only for green thumbed country folk with acres of land (and presumably free time).
However, given you have a bit of space, growing your own veg is possible – if you pick the plants of least resistance. We're not promising to turn you all into horticultural heroes, but we've picked five vegetables which are easy to grow and ideal for gardening beginners. 
Potatoes
A staple in any quintessentially British meal, potatoes are a delightfully versatile addition to any plate – or even enjoyed on their own. Having a fresh supply in your back garden is not only convenient for meal times, but saves you a few kilograms when you're lugging bags of groceries home.
There are many ways to grow potatoes, including in pots, in burlap sacks and through good old-fashioned digging. You can do a bit of research on the different methods here, some require a bit more TLC, and some yield better results than others – but there's always a happy medium depending on your individual needs. So, pick the one that best suits your lifestyle and your planting space and get started!
Potatoes fresh from the earth and cooked at home are a revelation!
Lettuce Leaves
How often do you buy a bag of supermarket salad leaves only to use one portion, and have the rest wilt away to a less than appetising condition?
Growing your own lettuce is cheap, easy and ensures that the freshest of salads is just at your fingertips! Depending on how much yield you require (and how much space you have at your disposal) you can opt to grow your crop from seed in the ground or in a container.
To ensure a continuous supply, the trick is to sow little and often – so if you plant about a dozen seeds in the first week, when they start to sprout, go for another dozen. You can always check out this simple gardening guide by the BBC to help you get started.
Courgette
It might not be the first vegetable to spring to mind, but courgettes are not only easy to grow – but also extremely productive. A very small amount of maintenance can yield an impressive crop of the versatile vegetable to add to your cooking regime.
The only slight hiccup with courgettes is that they have a sensitivity to frost, so prime planting time would be late May when the colder weather tends to be safely over and done with. Here's a quick guide to give you an idea of the (minimal) work involved in producing your very own crisp and tasty courgettes.
Carrots
The good thing about carrots (apart from helping young children who don't like vegetables to see in the dark) is that you can grow your supply pretty much all year round – if you play your cards right that is.
Best grown in fertile, non-stony soil, carrots like hot weather and don't need watering that often – about once every 10 days or so.
Make sure to plant your carrots in rows about 15-30cm apart, to stop the carrots being overcrowded – which can lead to 'forked ends'.  It is also important to pick any weeds that grow between the rows, as this can also lead to overcrowding. You can find more tips and tricks on the Royal Horticultural Society website.
Mint
Technically this last one is a herb – but what a herb to have! It's the perfect complement for lamb, soups, light desserts (not to mention several refreshing cocktails). However, as we all know the fresher the mint the tastier it is - so what better excuse to have your very own homegrown supply?
Mint is an enthusiastic plant that will easily spread, which is great if you have the space, but it's probably more controllable when kept in a large pot. To make life even easier for yourself, you can buy a young plant from a garden centre and develop your supply from there (saving you having to start from scratch!
Check out these simple do's and don'ts to get you started.
Any gardening beginners out there who have had success growing a particular vegetable? Let us know in the comments below.