Setting the Scene with Budget Friendly Staging Ideas
Staging a house doesn't have to be a time consuming or expensive process. While it's very important to appeal to many people's tastes and expectations, this crucial step can be an exciting and successful part of the selling journey.
Allowing your home to be viewed in the best possible light can increase your chances of catching a buyer's interest sooner rather than later. If prospective buyers see your home as a neutral yet inspiring blank canvas, they are more likely to put down an offer that meets your expectations.
 In addition to giving the impression of a home that's been well maintained over the years, staging a home offers you an opportunity to gain a head start on packing and making the best of your home's space. Tidy rooms can appear larger and in walk-in condition for the new owners, with little redecorating required upfront on their behalf.
We've put together some of our favourite ways to stage a home on a budget, that will help get your property market ready.
Cleanse and refresh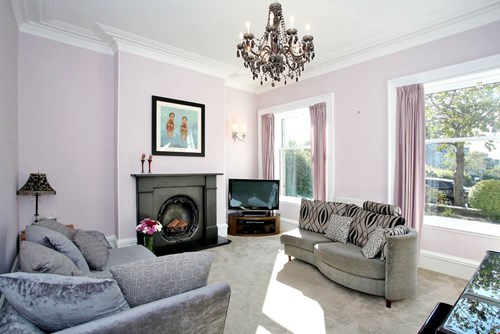 It goes without saying that a very clean and tidy home is more appealing to potential buyers. As well as de-cluttering, this is a good time to get some deeper cleaning done.
You don't have to pay for expensive storage for your personal effects, you can simply store everything neatly inside your built-in cupboards and wardrobes, using low-cost plastic boxes and organisers. Viewers may want to have a peek into built-in cupboards to see exactly what they might be purchasing, so it is important to go through these and make them as presentable as possible. A lick of white paint on the inside walls will also help freshen up the storage asset.
Not everyone is an animal lover so keeping your home pet-free on viewings will aid your chances. By arranging for a pet-sitter and removing bedding, toys and pet hair, your home will appear more presentable.
The smell of a home can greatly impact how a viewer perceives it. It is often thought that freshly baked bread or cookies can convince a potential buyer to place an offer, however simpler fragrances work best. Having a complex scent can be overwhelming to a viewer's senses and add an extra layer of thinking to their already tasking job of looking through a potential new home. Scents like citrus, pine or vanilla provide that fresh and clean ambience without taking away from the viewing experience or appearing too staged.
Sports equipment, pet accessories, old shoes and anything that has a bit of an odor to it should be placed in sealed plastic box. It can be easy for our noses to forget these smells when we live among them day to day, however people coming into the house can pick up on them more easily.
Fix and update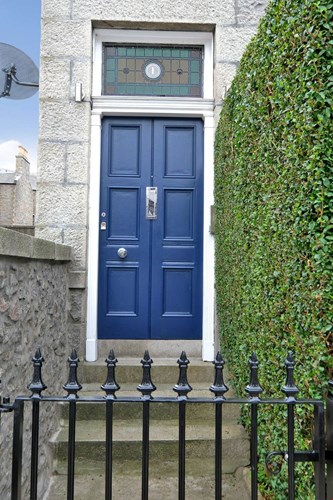 The outside of your home is just as important as the inside when it comes to a buyer assessing their investment. Consider refreshing the entrance of your home with a couple of low-cost plants in pots and a fresh coat of paint on the front door. Exterior walls and driveways can be refreshed with a simple hose down to remove moss, cobwebs and soil. Ensure the front of your home and front garden looks as clean and manicured as possible, as it's the first thing potential buyers see.
Large tubs of white or magnolia paint are an inexpensive way to freshen up any tired areas in the home. Neutral gloss and satin paint help to revive wooden window frames, skirting boards, picture rails and doors. Consider re-painting all the bedrooms in gender neutral white or magnolia too. This opens the rooms up to many more possibilities. Viewing families can get a better idea of what room suits who, and can even re-imagine them as flexible home offices or dens.
Creating warmth with props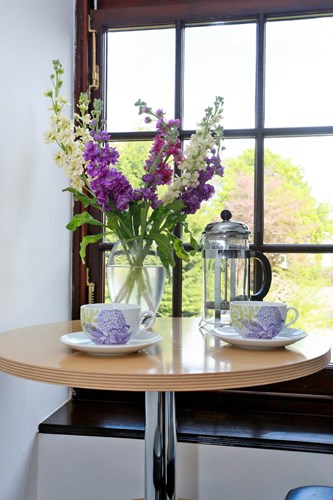 While neutral toned rooms can appear fresh and spacious, it's a good idea to add some homey touches. Homebuyers are looking for an emotional and practical connection so adding in a little crowd-pleasing personality can go a long way. Low-cost, yet on-trend accessories here and there can create a warming, homely story that buyers want to create for themselves.
Have items that you would solely use for dressing. Some items become visibly worn over time losing their fresh look, and so it is worth buying a few items that only come out for viewings.  Simple swaps such as neutral-toned bath mats and shower curtains, cushions, place mats and fluffy towels create a satisfying look of newness.
Not everything has to be a shade of white or grey, a pop of colour can really help bring out an architectural feature such as an interesting alcove, fireplace wall or bay window. Depending on the size of the feature wall, only one pot of coloured paint may be required.
Fresh flowers are pleasing to almost everyone and add vibrant colour among a plain palette. You can purchase quality bunches and bouquets from local supermarkets at reasonable prices.
Finally, set up some home vignettes. The home shouldn't look like a show home, it should look like someone has lived and loved there. Setting up staged props can tell a story in an effective way. A carefully placed newspaper and teapot, bowl of fresh fruit and open book add in that much needed homely atmosphere without imposing too much of your personality onto the buyer.
What's your favourite home staging idea? Comment below and we may add them into this list!