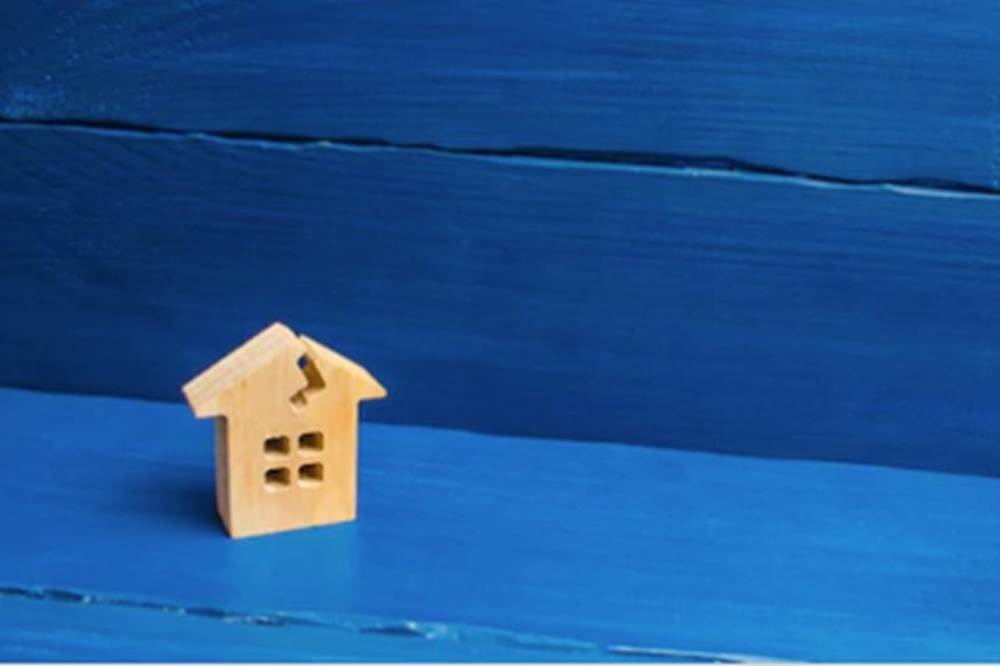 How to Spot the Signs of Subsidence in your home
Subsidence is an issue that can be particularly concerning for homeowners and homebuyers alike. It's something which can have a substantial effect on a home's structural safety and value. As such it's crucial that action is taken as soon as you spot initial signs that your property may be affected.
In this article, we take a look in more detail at what subsidence is, how to spot it, how to prevent it and should the worst happen, how to resolve it.
What is subsidence?
Subsidence is when the ground beneath your home collapses or sinks. As the ground moves lower, the foundations of your home become misaligned.
What causes subsidence?
There are several reasons that can cause subsidence to occur, such as:
Nearby trees: Trees drain moisture from the soil which can cause it to dry out and sink
Clay soil: The structure of clay soil can be changeable due to the weather conditions and is known to crack, shift and shrink in warmer weather, making the ground underneath a property unstable.
Drought: Areas susceptible to drought are more likely to be faced with dried out soil which increases the possibility of subsidence.
Leaks: Leaks from a drain or water mains can soften or wash away the soil surrounding a property, increasing the likelihood of the ground sinking.
Local mining: Local mining is a major factor, especially if your home is built near a former quarry. The material used to fill the space can shift as it decomposes causing the ground to become unstable.
Architecture: Older properties are often at greater risk due to shallow foundations. However, if your property is built from brick and lime mortar it is more flexible and less likely to be damaged should the ground below it shift.
How to spot the signs of subsidence
Recognising the signs of subsidence can be tough but there are some key things to look out for. It is worth noting, however, that if you do spot any signs, be sure to inspect them closely first, and do not always assume the worst. Cracks frequently cause homeowners to believe subsidence is occurring, however, there are other factors that can cause these. Quite often natural shrinkage and swelling due to humidity and temperature changes are the reason for these.
If a crack is caused by subsidence it will be:
- Located close to door or window frames
- More than 3mm (thicker than a 10p coin)
- Flowing diagonally, wider at the top than the bottom
- Visible on both the outside and inside of your home
Other factors to look out for include doors and windows sticking or catching due to warped frames and creased or peeling wallpaper where walls and ceilings meet. if you have had an extension built on your home, cracks may occur where the extension joins the rest of your property. 
How to prevent subsidence
There are a few precautions you can take to prevent subsidence from occurring:
- Keep trees at a safe distance: A 10-meter distance is recommended, 40 meters for larger trees. The Association of British Insurers (ABI) has a useful guide for particular tree types.
- Ensure guttering, pipes and plumbing are well maintained to avoid leaks.
- Use water butts to collect rainfall, this prevents soil from becoming waterlogged.
How to deal with subsidence
There are several ways of dealing with subsidence, however, it's worth noting that these are case sensitive, and the most appropriate treatment will depend on the cause and how severe the problem is.
Prune or remove trees and bushes: Remove any trees close to the property which may have roots causing the subsidence. It is important to consult a surveyor and tree surgeon in this instance to avoid making the property more unstable.
Repair damaged drains and pipes: Fix any blocked drains or damaged pipes as leaks can cause the soil around the property to wash away. If you suspect this to be the case, a CCTV drain survey can identify where the repairs may need to be carried out.
Foundation underpinning: This is where a solid foundation is laid below ground level to support or strengthen a home's structure. This is often suggested as the last option as it can be a costly and complex process.
Do bear in mind that many properties, after time, will experience a slight amount of subsidence as a property "settles" into position. This can be entirely non-problematic, and after an initial period of slight settlement, the movement ceases and becomes historic. There are many substantial granite properties in Aberdeen City and Shire that have slight historic settlement but are perfectly sound.
If you have any top tips for dealing with or preventing subsidence or even have your own experiences to share, we would love to hear from you.