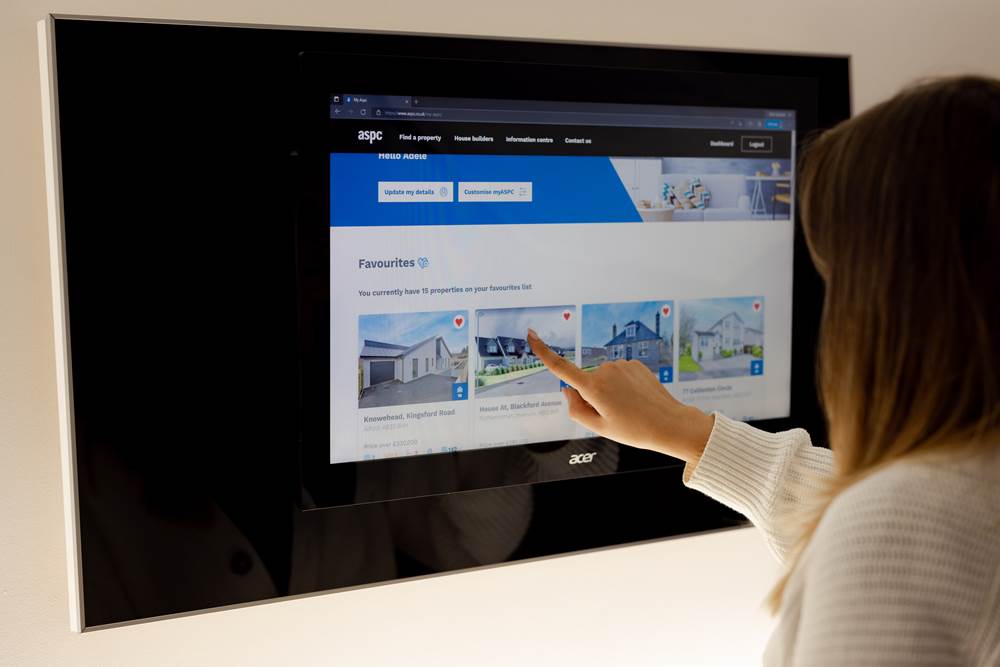 How ASPC is helping buyers and sellers across Aberdeen
What are the benefits of, and reasons for, choosing ASPC when buying or selling property in the North - East? We asked 4 recent customers to share their experiences of using ASPC to find out if it has helped them.
Katie, first-time buyer in Bridge of Don
"As a first-time buyer, I was wanting a one-stop-shop option of viewing all available properties within my price range. I remember using ASPC when my parents were looking to buy a number of years ago and when the time came for me to start my search, my first and only search was ASPC.
"The website was extremely easy to use and the filters were a life-saver! Having the ability to search based on certain criteria meant I could focus on flats within my budget and desired location.
"I would check the website every morning, sometimes multiple times a day."
Gemma, first-time buyer in Aberdeen
"I had barely begun the flat searching process until I stumbled across my dream property within days of chatting with a mortgage advisor, this went on to be the only one I viewed and eventually the flat I was lucky enough to buy. ASPC helped to streamline the whole process by giving me all the relevant information all in one place."
"Having access to the home report, EPC and other crucial information at the tap of a finger made my decision making, especially as a first time buyer, much less stressful. It was so exciting to see my flat go under offer once my deposit had been accepted!"
Greg, seller in Cove
"I knew that ASPC is the primary place to buy and sell property in Aberdeen and because it has such a large amount of properties, it gets the most exposure. Whether you're buying or selling, you want to be using ASPC.
"No other selling site in Aberdeen has the volume and standard of properties and because of this, it allowed me to market to more. If I didn't list on ASPC, my property would not have been viewed by half as many people.
"I was a bit addicted to checking the statistics, this was a good way of keeping up to date on who was viewing my property.
"And lastly, I should add, the couple who purchased our home viewed it for the first time on the final day before our closing date and ended by purchasing our property. This wouldn't have happened had we not listed on ASPC."
John, buyer and seller in Aberdeen
"When the time came to sell our flat, we knew that we wanted our property listed on the 'go-to' place for property search in Aberdeen. As ASPC only work with solicitors, we felt an added level of comfort and security that we were in good hands.
"Initially, before we even put our property up for sale, we used ASPC to better understand the market. We researched properties in the same area and of similar size to determine a ballpark valuation price.
"Once we listed our property, the real-time stats were really interesting to understand how many views our property received day on day and how many people downloaded a copy of our home report.
"For us, using ASPC was an easy decision. We had confidence in using them right from the beginning as everyone we knew has used ASPC if they have bought or sold property in Aberdeen. Even during the pandemic, our property still managed to sell within 6 weeks."
Lewis, buyer in Stonehaven
"ASPC has the largest collection of properties in the North East, meaning local buyers have exposure to a vast amount of houses in a variety of locations. When we first started to search for our family home, we knew we wanted to be based in the shire but hadn't settled on exactly which town.
"On the website, there are a number of handy resources on different areas. From here, we started to filter our search to include key locations but also properties with a garden. Although the website has thousands of property listings, the fact that you can easily tailor your search saves a huge amount of time and effort - which is not to be underestimated as moving home is a stressful time as it is!
Once we had narrowed down our search using the favourited buttons, this saved the properties that piqued our interest to our account. Having the ability to see the properties we had selected in one place was really helpful."
Sarah, buyer and seller in Countesswells 
"Our house was under offer within one week and I definitely think listing on ASPC helped with that.
"Listing on ASPC is a no brainer in my opinion, it is the one stop shop for those looking to buy in Aberdeen and Aberdeenshire. It allows potential buyers to compare, but also filter by desirable factors including area, price and make up of the house. I believe if a seller is looking to sell their house quickly and effectively, it needs to be listed on ASPC."
At ASPC, we want to help buyers, renters and sellers across the North East. Our team has created a range of insightful blog posts and information pages that will inspire, inform and guide you, however, if you still have any questions please do not hesitate to contact the Centre at centre@aspc.co.uk.