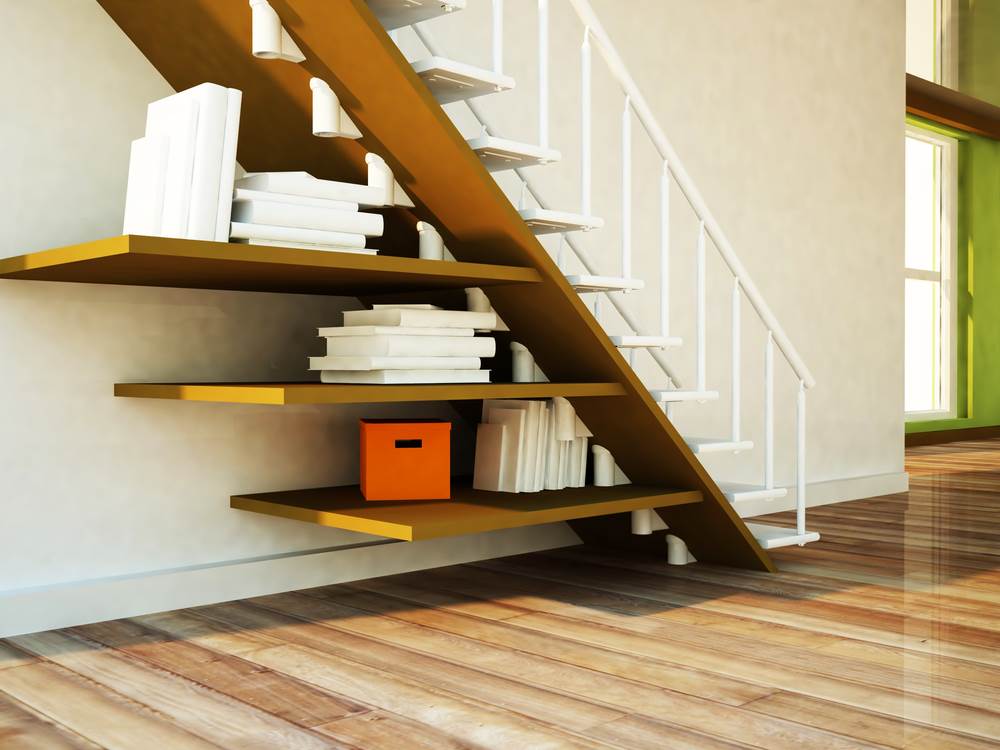 How to use the space under your stairs
Ah, stairs – they connect our home and sometimes can pull the whole feel of a house together, but they can also take up a lot of valuable space…
A popular use of this area is to slot in a small cloakroom, which, as well as being extremely handy, can have the added benefit of boosting your property value. However, inserting a cloakroom can be a pricey venture, and isn't always possible depending on your house's plumbing set-up.
We take a look at some easier and cheaper options for sprucing up the space under your stairs.
Put your pride on the shelf
Shelves are perhaps the simplest solution for converting the space under your stairway – but that doesn't mean that you can't insert a little bit of creativity.
It's a real opportunity to showcase your personality and hobbies right in the centre of your home. If you're a bit of a bookworm then it's the perfect spot for a little library. If there's enough space you can even work in a cosy nook to cuddle up with a classic.
If literature isn't your thing, there's an abundance of other ways that you can use your shelves to store and display. Are you a budding sommelier? Why not work in some asymmetric box shelves to stylishly store your bottles? A keen traveller? Use it as shrine to display your favourite travel memories and souvenirs.
The possibilities are endless, you just need to decide on a dedicated aspect to showcase –otherwise it could end up as just another space to store odds and ends, but then again – maybe that's exactly what your home needs!
Classic cupboard under the stairs
Perhaps you could do with a bit of space but don't necessarily want it on show? Simply add a door over built in shelves to create a perfect little storage cupboard for those pesky items that you just don't seem to have room for anywhere else in the house – like towels, shoes, or even canned goods that are taking up too much valuable kitchen space.  
If you've got a little bit more room, you could even go as far to create a walk-in closet. Having even a small bit of extra space like this can help keep the downstairs of your house much more organised.
Turn it into a cloakroom to avoid the collection of shoes and jackets that accumulate at the front door, or perhaps use it as a utility room to keep the washing machine and dryer out of sight from the rest of the house.
Steps for a productive work day
Working from home? Sometimes it's difficult to drum up the motivation from the kitchen table. We don't all have the luxury of a spare room to convert into a peaceful office, but if that nook under the stairs is big enough for a desk then you could be on to a winner.
Once you've created your working space, you can generate a more focused atmosphere with an overhead lamp, a filing cabinet under the desk and framed photos on the wall behind it. It can be just like a real-life office, only a bit more personalised and without any awkward kettle-side chat with colleagues whose name you may have forgotten…
Child's Play
While an office space is always handy, you don't want your home to be all work and no play! If you've got young children, why not turn the space into a unique cubby hole for them to play in. This could be anything from a colourful window seat style couch where they can sit and read, to a small inbuilt room that can become the site of many games and imaginary adventures to come.
If you'd rather not put too much time and effort into converting the space, you could always just paint the walls of the inlet in a brighter colour from the rest of the décor and lay down a soft rug to create a special place for your kids to go and play.
In the dog house
How about using that space as an upgrade for your pet? While a corner of the kitchen is all very well, a nook under the stairs could be the perfect spot for your pet to snuggle up. Whether it's just a dedicated place for their basket and water bowl, or a whole room that they can call their own – it's the perfect way to keep them comfy (and out from under your feet!)
For animals who like to roam freely you can leave it as a comfy open space where they can come and go as they please. However, for mischievous puppies you can always fit in a cage door over the space, to stop them from wandering about at night!