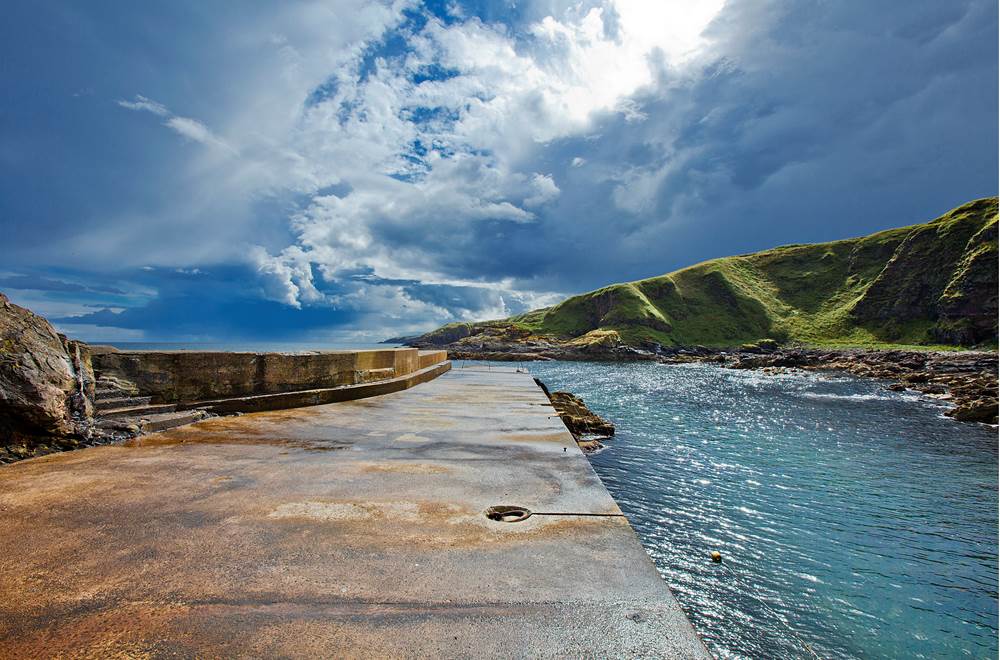 Cove Bay – Why it means so much to Jim Milne
Each of us has a spot in the North East that we hold close to our heart, and our 2018 calendar sets out to share just what these beautiful areas mean to us.
For each month, we have asked someone with a connection to either ASPC or Aberdeenshire itself to choose a location and tell us why it is significant to them, showcasing the view with a beautiful image from photographer Ray Smith.
With the summer months behind us, we hold on to the hope that the sun will still shine through. This scene is perfectly presented in the September calendar image, featuring a striking shot of the sun splitting the clouds and shining down on Aberdeen's Cove Bay. The area was chosen by the Balmoral Group's Chairman and Managing Director, Jim Milne, who said: "Cove Bay means so much to me and has done throughout my life. It is very close to where I grew up, East Tullos, and is adjacent to the land that my family farmed for many years. It is a tranquil location, belying its proximity to one of Europe's busiest ports, and offers the opportunity for peaceful reflection. It is symbolic of Aberdeen City and Shire's relationship with the land and sea; from rich agricultural countryside to the sweeping and often turbulent North Sea, both of which have presented our region with an abundance of harvests."
Cove was originally built as a fishing village, with the shingle beach and natural harbour providing the perfect place to berth boats. The piers were constructed in 1878 and the industry reached its height in the late 19th century before a sharp decline at the end of World War One. The village is also known for quarrying the hardest granite in the North East, which was used in the construction of roads across the UK. Although the industry is gone now, the history is still very much present in Cove's architecture. Loirston Road is home to St Mary's church and original cottages from the 18th century, while at the coast, the harbour and dramatic coastline still hold on to its industrial past.
Situated 5 miles outside of Aberdeen, Cove is now a commuter village and is the perfect place to stay while exploring the North East. Easily accessible, the village centre holds many delights, including famous architecture, museums, plenty of food and drink options and many festivals and year-round events. If it's adventure you're looking for, the Cairngorms National Park and the many castles of Aberdeenshire are on the doorstep. Of course, Aberdeenshire's renowned coastline has numerous beaches and coastal walks to explore as well as an abundance of wildlife.
Cove Bay is a beautiful spot on Aberdeenshire's coastline and the perfect base for exploring the many delights of the North East.