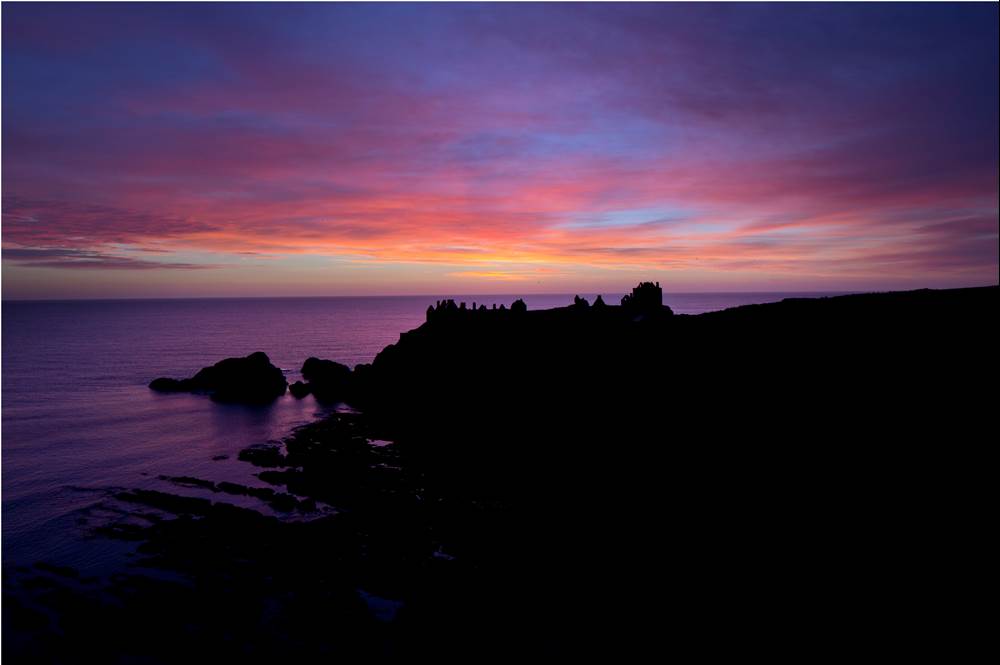 Dunnottar Castle – Why it's Neil Fachie MBE's favourite view
Each of us has a spot in the North East that we hold close to our heart, and our 2018 calendar sets out to share just what these special views mean to us.
For each month, we have asked someone with a connection to either ASPC or Aberdeenshire itself to choose a location and tell us why it is significant to them, showcasing the view with a beautiful image from photographer Ray Smith.
Kicking off our long-anticipated summer season is a stunning sunset landscape of Dunnottar Castle in Stonehaven, as chosen by Paralympic athlete Neil Fachie MBE: "I love the sight of Dunnottar Castle standing on the rugged coast, fighting against all that the North Sea can throw at it. It's what I associate with the people of the North-East – resilient, strong and proud."
Dunnottar Castle has a very long and interesting history, starting with the 440-million-year-old 'Pudding Stone' rock that it stands on. This eye-catching red rock is laced with ancient Highland pebbles, and is incredibly durable.
The surviving structure of the castle is an impressive example of a 15th century medieval fortress, however, its history expands far beyond that. Saint Ninian established a church on the Rock of Dunnottar during the 5th century - one of the earliest Christian sites in what was then named Pictland.
The fortress has been destroyed and rebuilt several times over the years. Vikings ruined the castle during the 9th century when invading and slaughtering King Donald II. It was later devastated by William Wallace when he captured the castle and burnt it to the ground. These destructions merely acted as opportunities for re-invention, given the site's continued rich history.
Dunnottar Castle has welcomed several special guests over the years, including Mary Queen of Scots and her son James VI. The fortress has also played host to some rather unfortunate visitors too. The Whig's Vault acted as a prison to 167 Covenanters during 1685. The men and women suffered deprivation and torture at the hands of Charles II for remaining true to their religious beliefs. Strength in spirit was a strong theme for the castle's associates.
The Scottish 'Honours', otherwise known as the Scottish Crown Jewels, were kept for a period in Dunnottar Castle until Oliver Cromwell's bid to steal the valuables put them in jeopardy. The jewels were smuggled out of the castle by a village woman pretending to gather seaweed. They were then hidden beneath a nearby Parish church. Once every three months, the minister and his wife would dig up and air out the jewels in a bid to protect them from damage, until they were sent for safe keeping in Edinburgh Castle.
Dunnottar Castle continued to pass hands until it was saved by Lady Cowdray in 1925. At this stage, the castle was nothing more than a hollow shell after everything within it was sold by previous owners, including floors and ceilings. Lady Cowdray opened the site to the public and the historic castle can still be visited today, priced at £7 per entry for adults and £3 for kids. Get more visitor information here.
It's certainly worth a trip for the breathtaking, landscape views alone. The castle is perched atop an ancient fortress jutting out on a clifftop edge above the vast blue sea. This vantage point provides amazing opportunities to contemplate beautiful horizons and incredible sunsets. The site is also only a ten-minute drive from the popular Stonehaven Beach. We can see why it's Neil Fachie MBE's favourite spot in the North East.