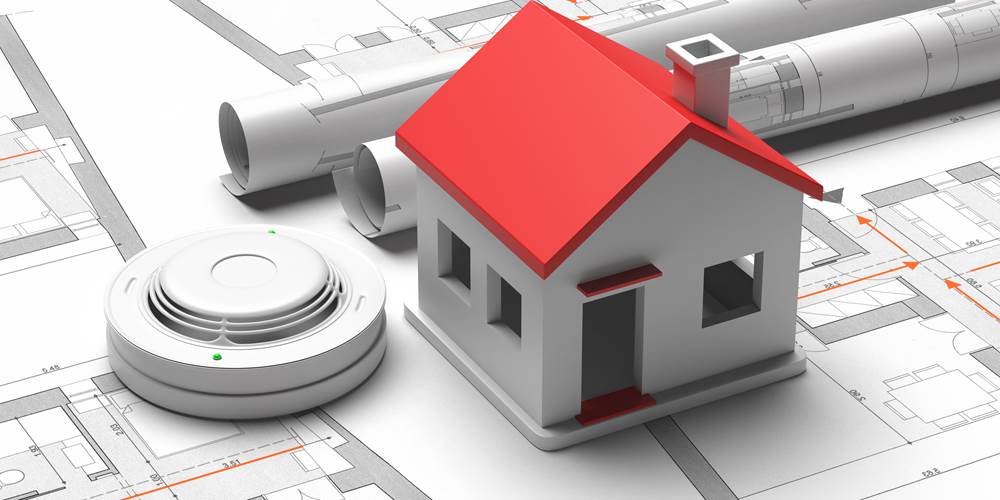 New Scottish legislation for fire and smoke detectors
In 2019, new legislation was introduced in Scotland regarding fire and smoke alarms in domestic properties. As a direct result of recent fire tragedies, fire and smoke alarms must be interlinked, and there must be adequate carbon monoxide protection in all homes in Scotland, both private and social housing, by February 2022.
In our latest blog post, we caught up with Sean Stewart, whose company specialises in heat and smoke detectors, Shona Robertson, Partner at local insurance broker H&R Insurance Services, and a member of the public who has been personally affected by a fire, to discuss the changes in legislation and what it all means. 
Sean Stewart, Director at North East Electrical Services
"Based on the new guidance, what is deemed satisfactory for a residential property is:  
One smoke alarm installed in the room most frequently used for general daytime living purposes (normally the living room/lounge)
One smoke alarm in every circulation space on each storey, such as hallways and landings
One heat alarm installed in every kitchen
All smoke and heat alarms to be interlinked
"Although the deadline for homeowners installing the systems has been extended to February 2022 because of the current pandemic, we've already received a strong level of interest from the general public who are looking to get their new systems installed sooner rather than later.
"Fire safety is no joke, and it's important that you think about how your actions affect others, as well as yourself. The Scottish Fire and Rescue Service has reported that during 2019 and 2020, they attended 91,971 incidents, 41,420 of which were false alarms due to incorrectly fitted detecting apparatuses. And of the 24,472 fire incidents attended, 4,887 were dwelling fires, i.e. a residential property.
"What a lot of people don't realise is that of the dwelling fires 525 of these incident callouts were due to smoke detectors being too far away from the fire to detect it. We appreciate that people would prefer a cheaper alternative - I too enjoy a bargain so I won't pretend otherwise - but by hiring a professional, you have peace of mind that the system is installed properly.
"By hiring a contractor, you are employing someone who knows the legislation inside out, the best suppliers and the ones to avoid, understand how different layouts can impact the number of units required, and has experience of neatly installing the units.
"You have to consider the locations, type of detectors to install, and the people living in the property. When dealing with older couples, or people with impaired hearing, it's important that you take the time to establish where their bedroom is and which rooms they spend the most time in. By doing this, you are able to identify areas that require additional detectors, maximising the likelihood of the homeowner hearing the alarm and taking action.
"The public's safety is important to me. Installing a system incorrectly will not only impact your own lives in the case of a fire but could also impact your neighbours depending on how close their home is to yours. Because of this, we are running a free helpline that is available for anyone looking for advice regarding the systems or guidance for installing the system themselves."
Shona Robertson, Partner at H&R Insurance
"The installation of heat and smoke detectors, and how this will impact house insurance depends on your insurer policy wording."
"At the moment, we capture information about fire detectors, along with the existing risk management features that properties have in place. Having fire detectors installed doesn't currently lead to greatly discounted premiums, and insurers are unlikely to reject a risk, or claim, if fire detectors aren't fitted, but that may change if policyholders don't comply with the new regulations."
"Generally, insurers have written in their policy conditions that policyholders must comply with all regulations and statutory conditions, which as of February 2022, will include the new fire safety guidelines. It will be the expectation that properties comply with the new legislation, unfortunately, failure to comply may jeopardise your claim."
"The Insurance Industry is currently operating in a Hard market, which means claims are being scrutinised. Insurance companies may be sympathetic to those who have yet to upgrade their system, but there's no guarantee. Therefore, as policyholders, it's incredibly important to read, understand and comply with all of your insurer's terms, conditions and endorsements to prevent any nasty surprises."
Michelle, a member of the general public
"It's incredible to read about the new technology available. Having the ability to receive updates to your phone from your detectors will give you the peace of mind that if a fire did break out, it would be caught quickly and reported early to the fire brigade, which would hopefully minimise the damage caused.
"When I was 15, my family home caught fire while we were out visiting family, destroying the back of our house completely and unfortunately taking the life of our beloved family dog.
"As a teenager, I never fully understood the extent of the devastation. It's only as I grow older that I start to appreciate the devastation that the fire caused.
"At the time, my main focus was on my dog and my concern was very much around losing my favourite skirt and having to go to the shop to buy clothes because everything was gone.
"I didn't think about the fact that we had to be out of our home for 6 months and what it meant for my parents. As an adult, and having now experienced the stress of moving home, the thought of an unplanned move with kids, all of your property being destroyed, and having to deal with your insurance company, contractors, picking carpets, etc. on top of the move doesn't bear thinking about.
"The back of our house was completely gone, and the rooms that had not been affected by the fire still had a smell of burning long after we returned into the house.
"We lost a great deal in the fire that couldn't be replaced, from family photos to gifts passed down from grandparents who were no longer with us - the items held great sentimental value, and we knew this could never be replaced.
"We were fortunate that we were not at home when the fire occurred, but many aren't as lucky. Having the interlinked fire alarms installed ensures people are alerted quickly, meaning that the fire can be reported and dealt with in as short a time frame as possible.
"Modern technology is great. Had the systems that are available today been in place all those years ago, we would have been able to alert the fire brigade sooner and maybe our beloved dog would have survived.
"The key is prevention. I know that money can be tight, especially given the current situation with Covid, but you have to really think about the cost of the systems in comparison to the cost of a fire. Everyone always thinks it will never happen to them, but unfortunately, it might.
"We were quoted £350 for our house, which I know sounds a lot, but when you think about the fact that the alarms are designed to last for 10 years, that's less than £3 a month.
"Getting a professional in to install the system gives you peace of mind that it's done correctly. You can't go back to change things - once a fire has happened, the devastation caused is permanent. Having the correct equipment installed by an experienced contractor can literally save lives."
If you would like to learn more about the change in legislation, and how it impacts you, visit the gov.scot website or call North East Electrical Services free helpline on 01224 548804.