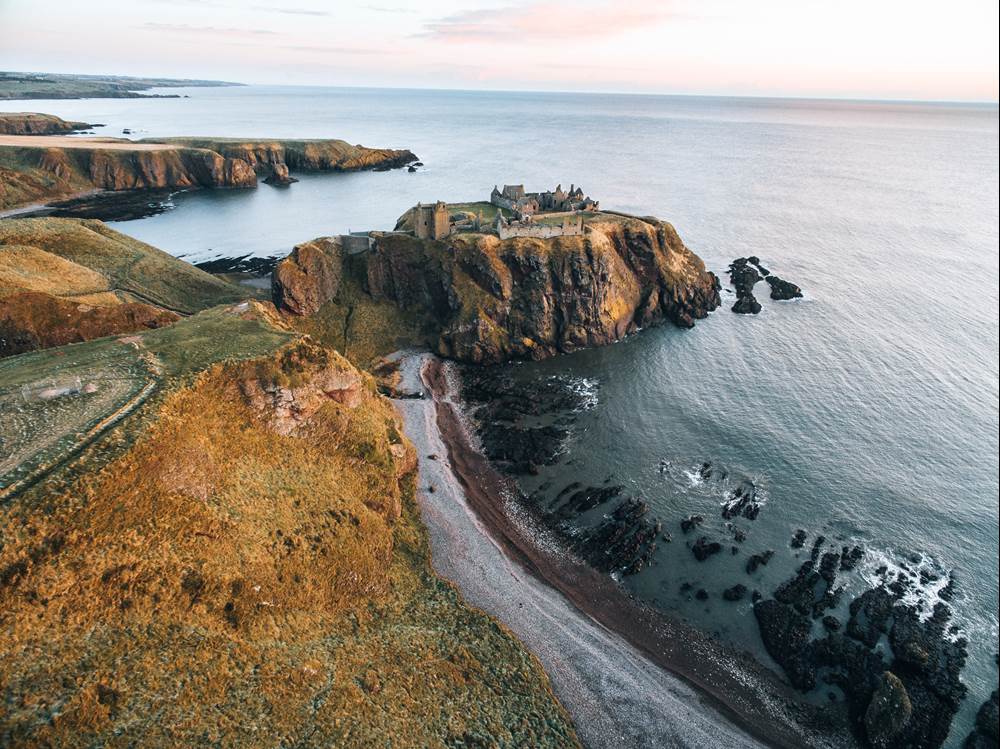 9 reasons why Aberdeen is a great place to study and live
They say it's all about location, and when selecting a university this is certainly the case. While modules, league table position and graduate prospects are important when selecting your university course, area can also have a big impact on your overall university experience.
In our latest blog post, CEO Lorna Coutts discusses 9 reasons why Aberdeen is a great place to study and live.
1. Local food and drink providers
"Aberdeen has some of the best food and drink suppliers on its doorstep.
"From Ellon's Brewdog beer, to Newmachar's House of Elrick gin, and Oldmeldrum's Glen Garioch whisky, Aberdeen City and Shire is the home of some of the UK's most popular drink brands on its doorstep.
"Catering to all types of foodies, Aberdeen has also been graced with some fantastic eateries including vegan cafe Foodstory and takeaways such as the Richmond Deli and Big Mannys' Pizza.
"Looking for some fine dining? The city also benefits from a range of restaurants that have featured in the 2020 Michelin dining guide, including Moonfish Cafe in the city centre, The Chester Hotel in the West End and The Silver Darling that has stunning views over the harbour."
2. The great outdoors
"Aberdeen might be called the Granite City, but did you know that over a quarter of the land is open space – including parks and gardens?
"With both the countryside and the coast within 15 minutes of the city centre, Aberdeen is the perfect place to live if you love spending time outdoors. From beautiful castle trails, to scenic coastal paths and award-winning beaches, there is so much to explore a short drive away.
"It's also no surprise that the city has won Britain in Bloom for a record-breaking 10 times. On a sunny day you can swap the library for one of Aberdeen's diverse variety of beauty spots."
3. Living costs
"Rent and living costs – whether your weekly shop or the price of a pint – can vary wildly depending on where you are in the country.
"In 2020 Edinburgh was ranked the most expensive city to live in outside of London, a title that was once held by Aberdeen. But with Edinburgh's rent averaging at an eye watering £1,272 p/m and Glasgow averaging at £960 p/m, Aberdeen's average rental value of £837 p/m is far more affordable."
4. Rich culture
"Museums, galleries, music halls, festivals and theatrical events – there's something to keep everyone entertained in the city.
"ASPC is pleased to be a supporter of Aberdeen Performing Arts, being the prime sponsor behind the recent refurbishment of The Music Hall. Aberdeen Performing Arts also runs His Majesty's Theatre - the largest theatre in North East Scotland and The Lemon Tree."
5. Famous alumni
"From actor Iain Glen, better known as Ser Jorah Mormont on Game of Thrones, and Frank Mulholland, QC, Lord Advocate for Scotland, to Nicky Campbell, TV and radio presenter famous for his time on BBC Radio 5 and the BBC Radio 1 Sunday Morning Show, the University of Aberdeen has an impressive list of alumni.
"Similarly, Robert Gordon University has a remarkable range of graduates - including Hamish Dodds, President and CEO of Hard Rock International Inc, double Olympian swimmer Hannah Miley and award winning artist Callum Innes."
6. The buildings sparkle in the sunshine
"Known as 'The Granite City' due to the many buildings composed of locally quarried grey granite, a great deal of the city's architecture appears silver in the sun due to the high mica content."
7. The weather
"Often referred to as the 'Grey City' because of the granite buildings, Aberdeen is quite often perceived as a city that is grey and lacking in sunshine.
"Where in reality, it's one of the sunniest cities in Scotland, receiving a much higher percentage of sun than other surrounding places. The city's sunny disposition, combined with the fact that it boasts an array of parks and gardens, makes it the perfect place to enjoy those long student summers."
8. Historic landscape
"The University of Aberdeen is Scotland's third oldest university and the fifth oldest in the UK, having been founded in 1495. At the university you can walk in the footsteps of some of the greatest minds in history as Five Nobel laureates are associated with the university.
"Robert Gordon University was founded in 1750 as a technical college, with full university status granted in 1992. It has a worldwide renown in architectural and design studies.
"Education aside, Aberdeenshire is home to a beautiful, historic landscape including castles that inspired Dracula and the famous Walt Disney princess castle."
9. A huge range of sports
"Love sports? Aberdeen is the place to be. The Aberdeen Sports Village (ASV) is one of the leading sports facilities in the North East of Scotland, with facilities for athletics, football, swimming, hockey, squash, martial arts and boxing.
"Don't forget, your university also has sports facilities available. RGU: SPORT has a six-lane 25m swimming pool, nine badminton courts and a 11m-high lead climbing wall among its features."
"At ASPC, we want to help both buyers, renters, and sellers across the North East. Our team has created a range of insightful blog posts and information pages that will inspire, inform and guide you.
Here are a few of our recent articles that you may be interested in: