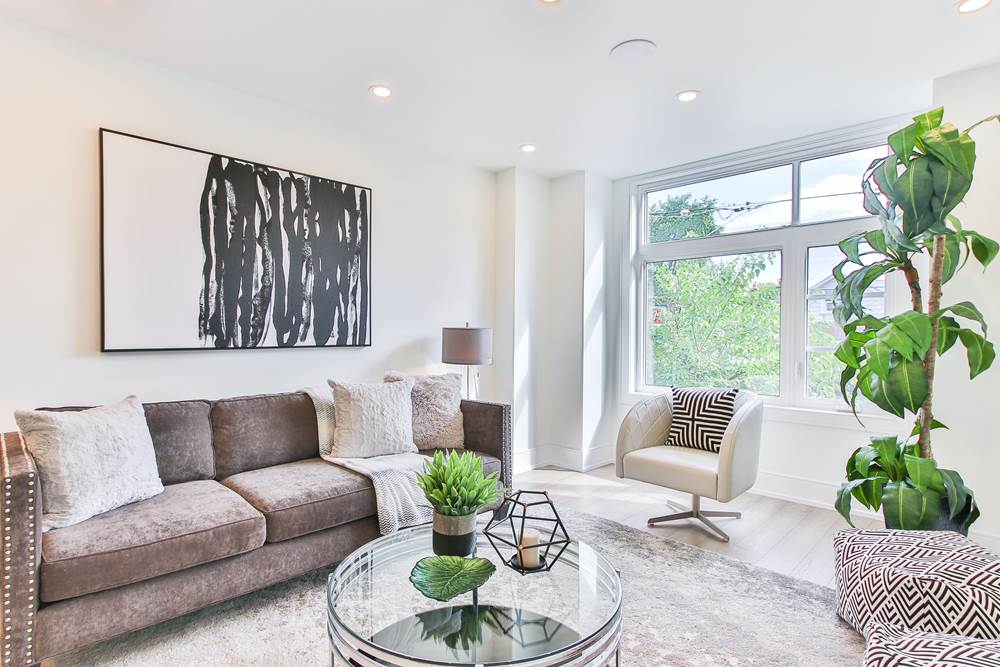 Ask the expert: 10 simple steps to make your home picture perfect
"At our recent 'Ask the Expert' event, our team of industry professionals discussed the steps taken to sell a home, providing easy-to-follow and affordable steps that could streamline the process.
"On the night we were joined by Stuart Dunne, Partner at Shepherd Surveyors; Eleanor Greenwood from John Lewis Home Styling; and Gary Small and Hannah Bisset from First Photographics.
"When it comes to selling your house, it's easier to put in the groundwork before you pay for a photographer rather than once your house is on the market. The main thing to remember is that you need to show your property in its best light.
"Whether you're getting ready for the photographer attending your house or buyers coming to look at your property, it's important that your home is looking at its very best. Don't make buyers imagine how good it could be, show them! In our latest blog post, we discuss Eleanor's 10 easy to follow steps that will help you prepare your home for going on the market."
Remove any unnecessary clutter
"As well as highlighting the strengths of your property and any key features, buyers will also be more attracted to a house that is tidy, filled with light, space, and storage.
"You want your home to look its best to potential buyers. If your home is disorderly or looks cluttered, this will make space look smaller and can be quite untidy.
"Selling and donating things that you no longer need will not only make the space feel larger, but it will also help with packing once you have secured a sale.  Make sure your kitchen counters aren't crowded, you don't have lots of lots of half filled toiletries around the bathroom, and that you've tidied away all excess coats and shoes from the doorway.
"It can take some time for your house to sell, and no one can live in a show home 24/7, but having a big clear out prior to your photos being taken will allow buyers to see the property's real potential, even if it isn't quite as tidy when they visit in real life."
Try to create a blank canvas
"Depersonalising will help buyers envisage what your property will look like if they lived there.  As far as possible, remove wedding photos, holiday photos, and also photographs of your children – be mindful that once your property is live on the ASPC website, anything shown within the photographs will be seen by thousands of house hunters. 
Get the tone right
"Depersonalisation also works in regard to your decor.  Don't let differences in your personal taste affect your sale.
"By neutralising bold colours with more muted tones, rooms will instantly appear bigger and brighter. Try to avoid white walls as much as possible as this can make the house feel clinical when you want to convey a warm and welcoming tone."
Carry out small repairs
"Buyers want to move into a home that has been loved and well looked after. Tidying up scuffs on skirtings, doors and window sills is a quick fix that you can do on your own.
"Hiring a professional to replace cracked tiles or fix a broken socket will make a big difference.  Many buyers want to move straight in and use the rooms immediately and carrying out these small repairs will help to make that vision a reality."
Be creative with your storage
"The most common reason for buying a new house is that you've outgrown your old one. And one of the biggest signs is that you start to run out of space.
"Storage is a big thing when it comes to buying a house. As most buyers will also have outgrown their own home, seeing tidy cupboards will allow them to picture themselves moving in. Try to make your cupboards as organised as possible, adding storage boxes gives the illusion of more space.
"If you have children or pets, make sure you have easy access storage boxes for a quick tidy before viewings. Wicker baskets are great because they look attractive, are functional but are often versatile too, meaning that you can take them to your new home.
"Are there bigger items that you're holding on to but don't use every day? Can you ask a friend or family member to store items for you short term? Alternatively, there are local storage companies where you can hire a unit by the week.
"It's unlikely that you can remove everything from your house, but getting creative with your storage solutions will really help you create more space."
Don't be afraid to move things around
"The layout of a room is extremely important when it comes to showcasing your home to its full potential. You want to make the rooms feel as bright and spacious as possible.
"Take a step back and look at your home objectively, think about what the buyer will see when they enter the home for the first time.
"Starting in the hallway, move through the house slowly and assess what you can see. Every room should feel and look easy to use. Create an inviting living room by making sure that sofas don't have their backs to any doors and there are no obstructions in hallways."
Think about the room's lighting
"Make sure you aren't blocking windows and allow for as much natural light to enter the room as possible. Mirrors on perpendicular walls to windows are very good at bouncing warm light around the room and can also make the space appear larger.
"Artificial light is also very important when it comes to creating ambience. Lamps bring a welcoming atmosphere as well as brightening up dark corners to make the full room much more appealing.
"If you feel you need to buy some more lamps, go for a neutral look that will easily fit into your home."
Make sure your rooms have a purpose
"Quite often when you begin to outgrow your home, the lines become blurred and you may start using a certain room for a different purpose. Has your spare bedroom slowly turned into an office/gym/storage room?
"If this has happened then you need to think about converting the room back to its original use. Removing all items that aren't relevant to the function of the room will help buyers view the rooms in the way that they intend to use them."
Have a spring clean, even if it's winter
"Making sure that your house is clean is an essential step to preparing to go on the market. Your house will stand head and shoulders above anyone else's if it is sparkling.
"You want to give the illusion that the property is easy to maintain, and the best way to do this is to make sure that it's clean and tidy. Hide any washing, tidy away toys and pet beds where possible."
Add some finishing touches
"People are often buying into a lifestyle just as much as the property.
"Adding fresh flowers and plants to a room will bring in life and colour, creating a homely feel.
Cushions and rugs in living rooms are a great way of creating interest and injecting some colour and pattern. And because they are easily removed, it won't matter if it's not to everyone's taste.
"In bedrooms, add cushions and throws over freshly ironed bedding to create a camera ready, relaxing space and add freshly laundered towels to bathrooms.
"Staging also extends to the exterior of your property and its kerb appeal. Look at your home from the road, how does it compare to others in your street? As you walk down the pavement to the front door make sure all aspects of the property have been well cared for and maintained.
"Cut the grass and tidy away any dead leaves. Move bikes, wheelie bins, and cars from the driveway where possible as you want to make access for buyers as easy as possible.
"At ASPC, we want to help both sellers across the North East, get the best out of their properties. To learn more from our experts, you can watch the full video here or read some of our related blogs online, including: